Product Information
Weak Wi-Fi? Unstable connections?
The AV600 Gigabit PowerLine Adapter Kit is an ideal solution for weak and uncovered Wi-Fi spots in your home. These smart adapters extend your internet access throughout your home by simply plugging them in the room of your choice. Using existing electrical wiring, covering a 300 meter range you are able to create a 600 Mbps high-speed network without dead spots and no messy wires.
No limitations
Wi-Fi devices have a limited bandwidth but the HP-6002AC is ideal for high high-bandwidth applications such as HD video, 3D movies and audio streaming to every room. Compatible with any networking device with an Ethernet port. Reaching areas were your Wi-Fi cant these adapters are perfect for delivering smooth, stable internet to your laptop, smart phone, tablet, smart TV and gaming devices.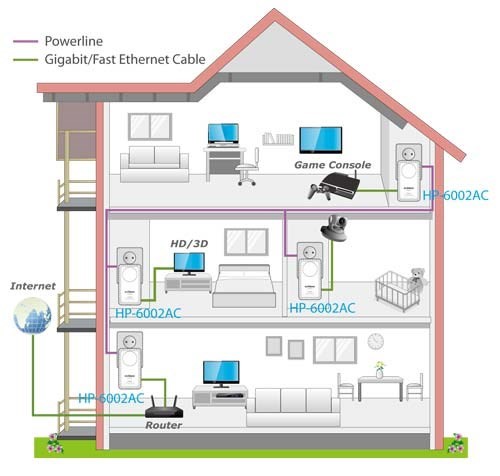 Smooth Connection
Perfectly suited for multiple uses around the home, whether you're watching a 3D/HD video in the living room and the kids are playing multiplayer games upstairs you'll receive a smooth, uninterrupted internet connection. The 600Mbps powerline speed and RJ45 Gigabit Ethernet is ideal for bandwidth intensive applications.
Plug and play
The Edimax HP-6002AC adapters transform the existing electrical wires in your home in to a high speed network. Eliminating dead spots and unsightly cables. If you don't have an existing Ethernet cable infrastructure the HP-6002AC enables you to create a network that's cost effective.
No power outlet goes to waste
No electrical outlet will go to waste as these adapters have been made with an integrated power socket that you can use with any electrical device, keeping your usual plug socket capacity. There's an in-built noise filter to ensure you don't experience a sudden drop of network speed when a high power consuming electrical device is being used.
Features:
Fastest powerline speed
Smooth connection
Plug & play, easily create or extend networks
Up to 600Mbps powerline speed and 1000Mbps Gigabit LAN speed
Uses existing electrical wires
300 Meter range over a homes electrical circuit
Integrated power sockets ensure no plug space is wasted
Built-in noise filter eliminates sudden network speed drops
Energy saving mode to reduce power consumption
Backward compatibility
Compatible with all AV500 & AV200 Powerline adapters