Sharp TVs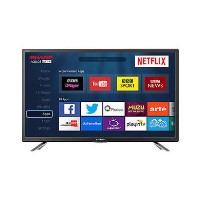 Television Screen Size (Inch)

-

24"

Display Resolution

-

HD Ready (720p)

Screen Technology

-

LED TV
Being the market leader in large screen TVs, Sharp offer a wide variety of TVs ranging from compact 19 Inch TVs up to enormous 80 Inch Smart TVs so you can tailor your viewing experience to meet your budget. Many of the TVs are optimised with:
3D Technology: Enjoy pictures that really come to life with breathtaking 3D depth and detail on a Sharp 3D TV. Many Sharp TVs now allow you to customise the 3D depth to suit your mood and watch standard 2D content in glorious 3D thanks to Panasonics advanced 2D to 3D conversion technology. To enjoy a true 3D experience we recommend you require watch dedicated 3D content from 3D Blu-ray players, 3D video games and future services from Sky and Virgin.
Smart TV: The AQUOS NET+ menu gives you access to popular online services on your TV. Use your remote control to navigate. You can surf the net. Check out play channels. Download apps. Rent movies at the touch of a button. Chat and enjoy video calls with your friends.
Freeview HD: Get Ready to watch High Definition TV for free with built in freeview HD bringing you the best of BBC, ITV and C4 in glorious high definition with no monthly fee or contract. Freeview HD provides up to 5 times the picture quality of standard definition freeview taking you closer to the action.
Quattron technology The Quattron technology uses an additional sub-pixel colour (yellow) to display the TV picture, providing an even more brilliant picture. The enhanced colour space and the refined reproduction of colour shades are particularly noticeable in the reproduction of gold and yellow, green and blue, and with brown tones. The colours appear even brighter and more natural.