Playstation 4
The PS4 is Sony's contribution to the next generation in console gaming. The PlayStation 4 brings dynamic and connected gaming with powerful graphics and speed. Play like never before with the PlayStation 4.
Sony has stated that the PlayStation 4 is Gamer Focused and Developer Inspired. The heart of the PS4 is to deliver a fully immersive and stunning gaming experience. The system packs a real punch when you take a look inside. PlayStation 4 runs on a custom chip processor, makes use of eight x86-64 cores, boasts a state of the art graphics processor and 8GB of GDDr5 memory. It's clear that the PS4 is packed and ready to deliver some powerful and lightning fast gaming experiences.
The new DUALSHOCK 4 has seen itself refined and adapted for the next generation too. The controller is full of new features and innovative ideas including a share button to stream and share in an instant. The DUALSHOCK 4 also includes a touch pad on the front of the controller letting you interact with console games like never before. Did we mention the six-axis sensor in the pad? With so many features and improvements, the revised DUALSHOCK controller is ready to take you on an immersive, next gen, journey.
With PS4 there are no restrictions. PlayStation doesn't put any sharing restrictions on disc-based games, letting you share with friends like you always have done. The PlayStation 4 is also ready with some great console exclusive games like, Drive Club, Killzone: Shadow Fall, Knack and Tiny Brains.
Revolutionise the way you game. Introducing the PS4.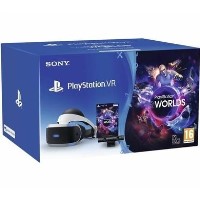 PlayStation Camera

Playstation VR Worlds

Simply connect to your PS4, PS4 Slim or PS4 Pro to begin your incredible VR experience.
Only
£259.97
£12.48

FREE Delivery
Find Out More