Product Information
Both a skilled laptop and an effective tablet in one sleek device, this versatile transformer book from Asus, will transform your digital lifestyle to an ultra-portable experience! With an impressive quad-core Atom Intel processor, 2GB of RAM and a spacious 500GB Hard Drive, you'll be able to watch, work, share, and play from anywhere throughout your day!
Performance
With Asus' own Instant on technology, this transformer book will always be ready for action!
A winning combination of the proficient Intel Atom Z3775 quad-core processor and 2GB of RAM at the wheel, you can optimize your multitasking performance, and get more done in less time!
The tablet-friendly Window 8.1 drives the multitasking performance forward, with features designed to make switching between tasks, windows, and programmes super-efficient and quick, with a tiled design to keep your most treasured apps at the touch of your fingertip!
Transferring files up to 10 times the speed as a USB 2.0, the USB 3.0 port will upload your content in no time at all, keeping you up to date and productive without breaking your focus!
To top it all off, it comes with dual-band Wi-Fi that advances your connectivity to new levels of efficiency!
Graphics
With truly outstanding performance, the Intel HD graphics that comes with this Asus transformer book are up to 30% faster than ever!
The IPS technology delivers vivid images from any angle, providing 178° of viewing: great for watching a movie with a mates because no one misses out on fantastic visuals even when not in front of the screen!
With a generous screen size of 11.6 inches and a 1366 x 768 pixel count, DVDs, games, work presentations, and photos will look absolutely stunning, impacting both your entertainment and productivity!
Battery life:
Keeping up with your day to day routine, this little beauty has up to 10 hours of battery life! Becoming your sidekick for battling the daily grind of work and lectures, or withstanding the long movie marathons at the weekend, this Asus T200 just keeps going all day long!
Comfortable
The gesture-enabled trackpad is large, giving you wide freedom of movement with minimal effort – ideal for filling out detailed spreadsheets or flicking through a photo album!
The touchscreen on the tablet is a multipoint screen, meaning that you can use more than just one finger at a time, which is great for zooming in on things, and so much easier for switching from app to app!
Ultra-portable
One of the most beloved aspects of this streamline transformer is that it's small and light enough to be able to take with you wherever you go!
With a generous 500GB hard drive, you can store your favourite movies, music, photos, or work files on the device, saving your from lugging around an external hard drive. However if you want more storage, this Asus comes with a smart hard disk tray which makes it easy for you to upgrade the storage capacity yourself!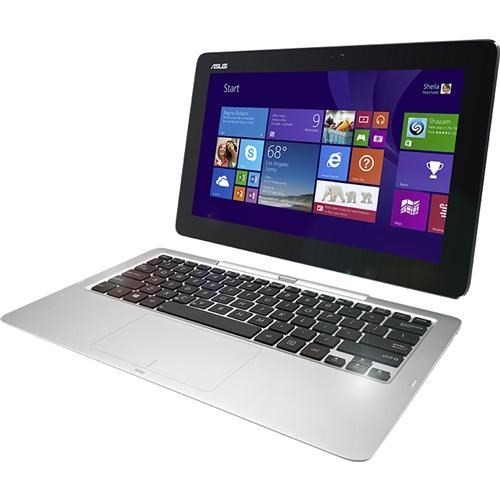 Sophisticated style
Stylish and durable, the iconic ASUS concentric-circle pattern catches every eye, made with specially engineered materials to guarantee it remains looking as good as new!
Combining style, power and convenience, this dynamic transformer book by Asus will keep you connected, entertained, and productive wherever you go, at no bother to you! A pleasure to operate, you'll never want to go back to a normal laptop!
Screen size - 11.6 in - 1366 x 768 pixels Yes
Processor - Intel Atom Z3775 - 1.4 GHz
RAM - 2 GB - We have great deals on memory upgrades, if you need more Ram please call our sales team on 0871 971 0005
Hard Drive - 500 GB
Touchscreen
Operating System - Windows 8.1
Warranty - 1 year warranty