Product Information
A2 Refurbished
A2 units may have some cosmetic markings that can still be seen when holding the unit at arm's length, please be assured this will in no way effect the unit's performance. All A2 units have undergone a full 25-point inspection by our experienced tech team, before been securely repacked to ensure you get the best experience upon using your unit. Please note this unit may not come in its original packaging or complete with accessories but we will always ensure the units have their required power supply to allow you to charge this unit. All of the above is reflected in the units sell price.
Refurbished Laptop - Grade A2 - Light Cosmetic Damage
Complete with 1 year warranty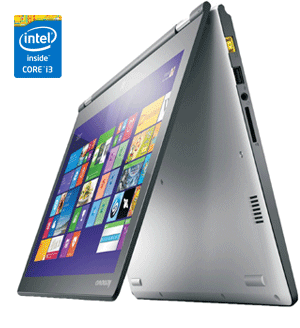 A Perfect Balance
A great blend between high performance computing and amazing value for money - the portable, stylish and extremely versatile Lenovo Yoga 2 gives not 1 but 4 modes - Laptop, Stand, Tablet and Tent, When the mode is changed the system automatically switches and locks the keyboard in place. The unique 360 degree design means you can choose which ever mode is best for your chosen task.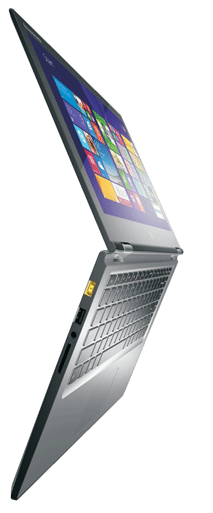 A Great Choice For Entertainment
Featuring powerful and efficient Intel 4th Gen Core i3 processing and a generous amount of RAM at 8GB, the Yoga 2 convertible laptop tablet is designed for multi-tasking and multiple applications - You can be safe in the know that even the most demanding tasks will be dealt with at ease.
Combining the portability of a tablet with the power and versatility of a laptop, the Yoga 2 features a fully folding screen, letting you switch from an intuitive Full HD 13.3 inch touchscreen tablet to the all familiar laptop mode that we already know and love. When watching movies or talking on Skype, you can turn the laptop to stand mode, making the whole process hands free and more comfortable.