Product Information
A1 Refurbished
A1 are open boxed units which have been returned usually due to being unwanted. The units may have at very worst case have very faint minor /non-permanent blemishes. All units then undergo a full 25-point inspection by our experienced tech team ensuring they are in full working order. Once all relevant checks have been complete the units are then securely repacked ready to be resold. Please note although we can't guarantee that these units are still in their original boxes with all their original accessories we can confirm that on average 85% of our stock is still in its original packaging.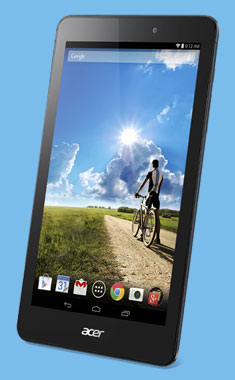 The Acer Iconia Tab 8 features powerful performance and great features, all packed into a compact design perfect to be used on the go.
On the Road
Pick the Iconia Tab 8 up and slip it into your bag to enjoy movies, music and more, or even finish those emails for work, while you're sat on the train, bus or wherever you might be. The slim, compact and light design makes this tablet easy to take with you. You won't even notice a difference in your bag.
With an 8" display with IPS (In-plane switching) technology, you can enjoy clear, crisp images and colours whether you're on your own or with family or friends. IPS keeps colours sharp and true from every angle, so when you're sharing, no one will miss out.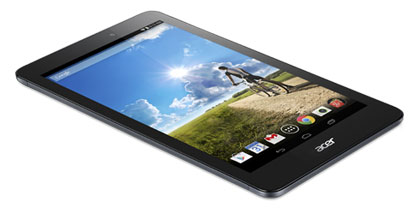 Powerful Features
The Iconia Tab 8 runs under the Android 4.4 KitKat operating system which delivers a clean, easy-to-use interface. You can download the latest apps from the Google Play Store as well as their latest software and security updates.
1GB of RAM and an Intel Atom quad-core processor deliver smooth operation and seamless flicking between apps and programmes, making multitasking easy.
16GB of internal storage, which can be as much as doubled by adding a microSD card, means you'll never be short of space to keep files, movies, music and much more.
Browse, play and enjoy your Iconia Tab 8 for 7.5 hours between charges - that's a full workday with light use!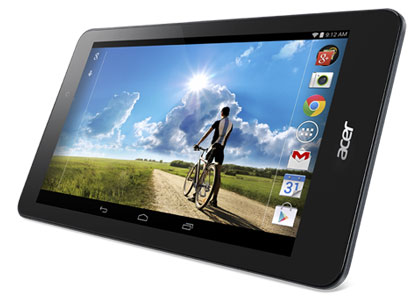 Easy Connections
Connect to the world, stay in touch with social media and much more thanks to the Iconia Tab 8's superfast Wi-Fi connectivity. Connect at home, in the office or at thousands of Wi-Fi hotspots around the country.
If you're looking for a quick way to share files, data or anything else with someone close by, the integrated Bluetooth makes this really simple and quick.
For larger items, or for adding content to your Tab 8, using the micro USB port makes this quick and easy, safely transferring your files in next to no time.
The micro HDMI port lets you project onto a TV or projector, ideal for presentations or just enjoying movies with family or friends.