Product Information
DUAL CORE
PROCESSOR
500GB
HARD DRIVE
4GB
RAM
DVD
REWRITER
WINDOWS 7
PROFESSIONAL

This Lenovo ThinkCentre E73 is perfect for the home or office. Small in size big in stature. With a superior processor and the perfect balance between performance and protection this desktop offers excellent features to help get you on your way with increasing your business productivity and efficiency.
High performance
The Intel Core i3-4150 Dual Core processor ensures a smooth ride as this desktop makes managing multiple programmes and applications together effortless. 4GB of RAM and a cache memory of 3MB gives you more than the average user requires to get the job done quickly and efficiently.
With a 4GB RAM allowance your requests will be carried out smoothly, however if you need to boost your E73s performance capabilities there are two DIMM slots available for you to increase your RAM allowance.
Memory
You will have 500GB of hard drive space available to store all your essentials, documents, photos and a few playlists will be stored no problem. Looking to store more than take advantage of the external storage options that this E73 ThinkCentre has available.
The DVD-Rewriter allows you to play CD's and DVD's as well as burn your own, this is a great way to save data that you will need to keep or save treasured memories.
The E73 also has an integrated card reader which is the perfect way to transfer media from your portable devices such as your phone and digital camera.
There are six USB ports at your disposal, plenty of ports for all our accessories as well as the included keyboard and mouse. Two of the USB ports are speedy 3.0 ports which are ten times faster than your average 2.0 ports. Quickly and effortlessly transfer all your media needs.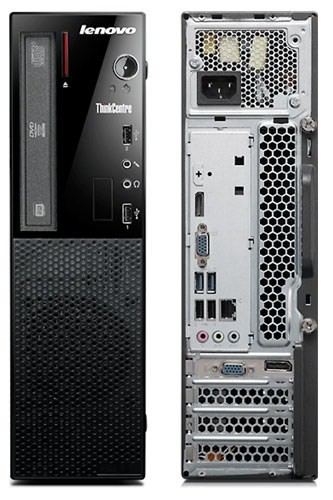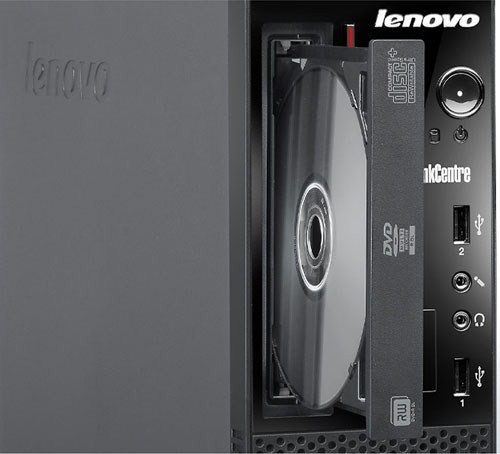 Experience
This desktop operates on Windows 7 professional, friendly and welcoming. All your essential programmes and applications you require daily will be ready and waiting to help enhance your productivity and business needs.
Integrated graphics display your projects beautifully. This desktop might not be suited for those intense gamers but it is the perfect choice to get down to business.
Business essentials
Wi-Fi and Bluetooth technology not only enables you to access the internet but also gives you the option to connect to your desired accessories effortlessly and operate them at the click of a button, no more messy wires and your connected devices don't even need to be in the same room.
Utilise the microphone port and boost your communication levels with business calls and video conferencing, transmitted perfectly with the high definition audio system.
Features:
Form Factor - Small Form Factor (SFF)
Processor - Intel Core i3 4150 - 3.5 GHz
RAM - 4 GB
Hard Drive - 500 GB
Optical Drive - DVD-RW
Operating System - Windows 7 Professional (64-bit)
Warranty - 2 year warranty