Product Information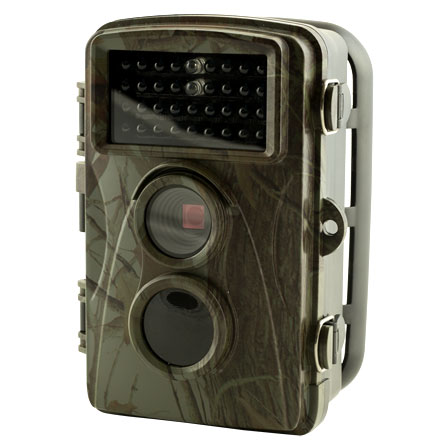 Ever wondered what's happening in your garden while you're out or tucked up in bed? You could be missing out on a host of amazing animals that you didn't know were there.
From squirrels to foxes, robins to sparrow hawks, you don't have to miss out on these amazing sights anymore. The Pro Outback Wildlife camera from electriQ puts you right in the middle of this incredible activity, without ever disturbing any of these incredible animals.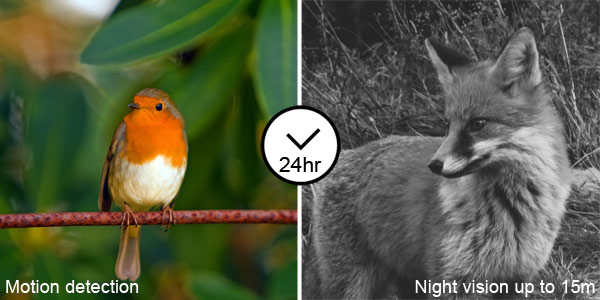 Ideal for Any Location
This wildlife camera is perfect for anyone, whether you live in the middle of the countryside or in the centre of town, there will always be plenty to see. The motion sensors activate the camera in less than one second, meaning you are almost certain to capture some great images before the creature moves on.
With night vision of up to 15m, this camera will monitor the length of most gardens. This camera helps to improve the security of you garden too as it can just as easily be used as a CCTV device.
Simply attach it to a tree, fence, wall or even a drainpipe in your garden using the provided mounting strap or mounting plate for added convenience. As this camera is battery powered, you really can mount it anywhere.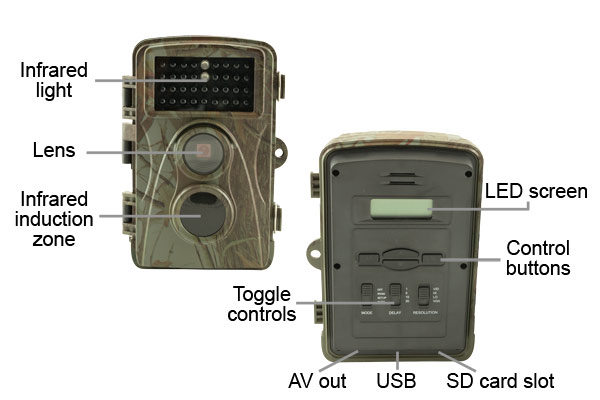 Weather Resistant
There's no need to worry about exposing this camera to the elements. Find the perfect place to set your camera and it will withstand any weather or temperature, providing brilliant footage all year round. With the ability to withstand temperatures from as low as -20°C and as high as 60°C, you won't miss a thing.
Incredible Features
The high quality 5MP camera provides HD results, revealing even more of what goes on in your garden.
Insert an SD card of up to 32GB into the handy slot and start recording straight away. This handy method of storage delivers added flexibility so you can enjoy your footage on a number of different devices.
This camera is extremely discreet, too. With a camouflage finish and such a compact size, you can easily mount your wildlife camera in hidden locations for added peace of mind.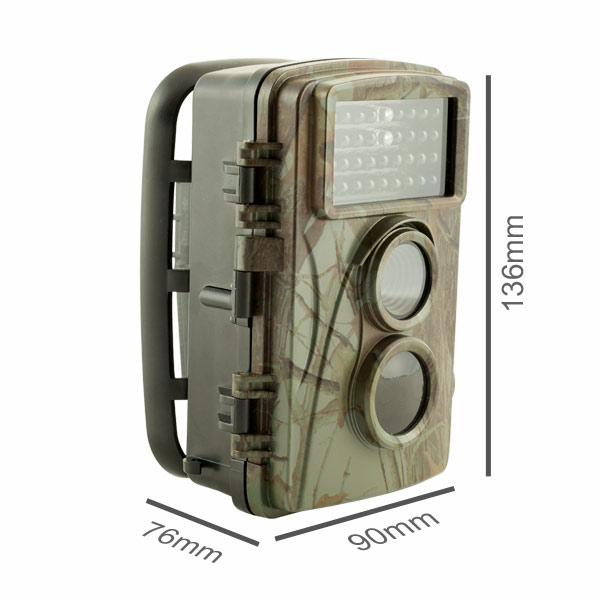 What's in the Box?
5MP Camera
Tree Mounting Strap
USB Cable
Operating Instructions
Features:
Video Format: AVI
Video Resolution: 1920 x 1080 pixels
Video Frame Rate: 15 fps
Video Recording Duration: 1 ~ 60 seconds
Still Image Format: JPEG
Still Image Resolution: 5 Megapixels
Multiple Still Image Capture: Yes (up to 7 photos per trigger)
Image Overlays: Date / Moon Phase
Record Delay Range: 5 seconds ~ 10 minutes
Night Vision Distance: Up to 50ft / 15m
Number of Infra-Red LEDs: 40
Battery Type: 4 or 8 x AA
Memory Type and Size: SD Card up to 32GB
Sensor Range: Up to 50ft/15m
Sensor Trigger Speed: < 1 second
Dimensions
D x W x H: 76 x 90 x 136mm
Why not add a 32GB MicroSDHC flash card SDC10G2/32GBSP