Product Information
Refurbished Grade A1 Laptop - Product shows no signs of scratches, marks or dents.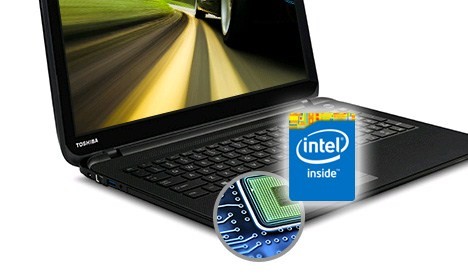 Extremely Portable, Unbelievably Affordable
When it comes to purchasing a laptop on a budget, you want something that is going to be able to keep up with your daily tasks, be reliable when you need it most and not cost too much. That's why this refurbished Toshiba Satellite C50-B would be a perfect choice. Huge savings can be had with our refurbished laptops and this Satellite C50-B is definitely one of them.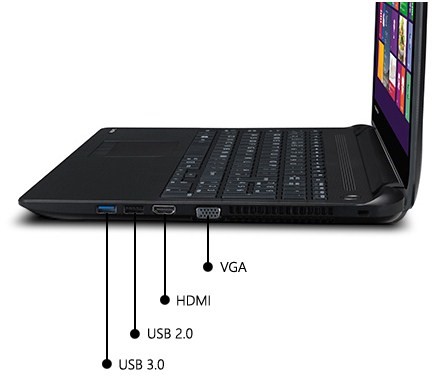 So, what's the spec?
The C50-B comes with one of Intel's latest dual core processors, giving enough power to get you through your applications and word processing. With Intel's Turbo Boost Technology it can boot you up to a staggering 2.42GHz clock speed, combine this with 4GB of energy saving RAM, the Satellite C50-B makes multi-tasking quick and easy keeping you free from glitches and page freezes.
Keeping your files & media in order is simple thanks to the large 500GB hard drive giving space for over 100,000 songs, and 120,000 photos. If you want to watch videos, the 15.6 inch HD Toshiba TruBrite widescreen and advanced Intel HD Graphics are ideal for giving your films and tv shows an extra visual edge. The built in stereo speakers, enhanced by DTS Sound give your audio a clean and crisp sound.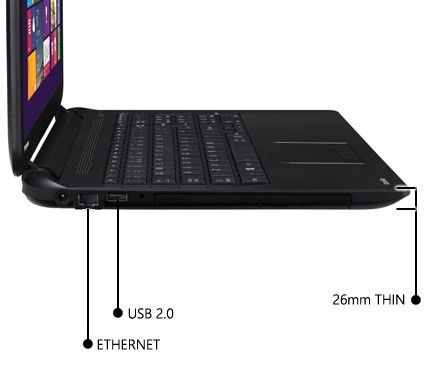 The Toshiba Satellite C50-B is a great travel companion thanks to it's slim chassis, ergonomically designed for a more enjoyable, portable experience. Weighing in at a mere 2.2kg and measuring just over 26mm thin, the C50-B is proof that you don't have to compromise on style and aesthetics. The matt black tiled keyboard with a comfortable tactile keycap design and 10-diget numerical keypad keeps your work efficient whilst preventing fingerprints and smudges.
This refurbished Toshiba Satellite C50-B gives you all you could ever need in a budget laptop; great for the home, great for travel and great on the wallet.