Product Information
Capture Every Moment
Never miss a beat with the Sony Xperia M5, the phone with super high-quality rear and selfie cameras. Featuring a powerful octa-core processor, 16GB capacity and a 5.0" screen, this phone will help you power through all of your daily tasks and more; you can call, text, watch and play in style with the Sony Xperia M5!

Shoot video footage in stunning 4K Ultra-HD quality. Don't let life pass you by, capture it in the best quality possible with the Sony Xperia M5.
An incredible 13mp front-facing camera allows you to capture the best memories in a higher quality than ever before. Take incredible photos of you and your friends, even in low light.
The 21mp rear camera has a 5x clear zoom which is great for capturing moments that are further away. Hybrid autofocus with a fast capture speed allows you to get great shots of fast-moving objects and get extremely clear images of faces, even in low light!
Beautifully Designed
The M5 is water proof and can be submerged completely for a short amount of time; it has also been ergonomically designed to have the most premium look and feel possible. The phone sits beautifully in the hand and is a pleasure to use; stainless steel rounded corners and a durable frame not only protect the phone from knocks and bumps, they also make the M5 easy to handle.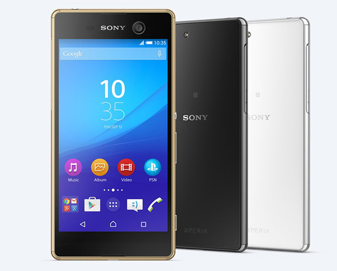 Powerful Inside
Featuring a 2.0GHz octa-core processor, 3GB RAM, 16GB Storage and a 2-day battery life, the Sony Xperia M5 is a pocket powerhouse. The powerful processor and Android 5.1 Lollipop work together to give you an incredible experience. A large 2600mAh battery gives you 2 days of impressive performance, call, text, play games and browse the web for longer than ever before.
Key Features

Unlocked & SIM Free
4G Ready
Ultra-sharp 21.2 Megapixel camera
5" screen
Powerful octa-core processor
Android 5.1 Lollipop
16GB Storage + 200GB SD card slot
Water & dust proof
2 day battery life!