Product Information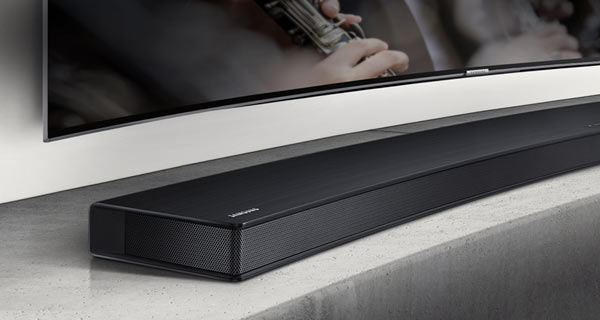 Experience amazing sound to match that incredible Ultra HD TV picutre by adding a Samsung soundbar and subwoofer to your set-up.
You might think the audio you're getting from your TV is good, but just wait until you add this soundbar.
The idea of a soundbar is to throw the audio from your TV into the room instead of being lost somewhere behind. Just sit in front of your TV or hand it underneath to experience incredible quality sound to improve your viewing experience.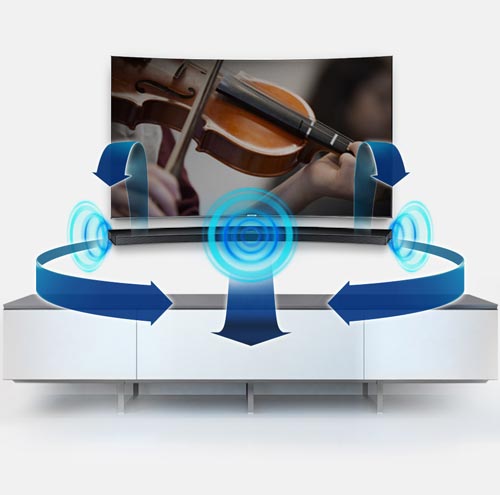 A Room Full of Sound
This Samsung HW-J6500R soundbar doesn't just give you amazing quality sound - it also fills the room with audio to fully immerse you in whatever it is you're watching.
The six built in speakers give you detailed sound. They make the highest frequencies crisp and clear while giving the mid-range frequencies a detailed and warm sound. The wireless subwoofer provides really deep bass that can add pure drama to those movies.
With Surround Sound Expansion, this soundbar delivers sound both sideways and up to really fill the room with sound.
Clear Voice technology makes for clearer dialogue by reducing background noise. By doing this you no longer need to strain to hear voices on the TV over the noisy background therefore making the viewing experience more pleasurable and, again, more immersive.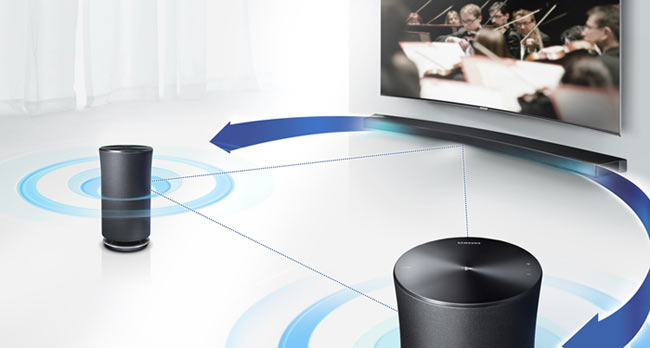 It's Not All About Watching TV
The Samsung soundbar and subwoofer goes much further than enhancing your TV viewing experience. It can improve the way you listen to music at home and the quality you do it in.
Connect your phone through Bluetooth to the soundbar and listen to your music in immense quality. HD audio technology improves the quality of your MP3s to studio quality - giving you detail from your music that you didn't know whas there.
Alongside this you can then wirelessly connect other speakers throughout your home so you won't miss another beat.
If you connect compatible Samsung speakers to your soundbar, and download the Multiroom app, you can even listen to different music in each room - perfect for house parties or just to avoid those arguments over what everyone wants to listen to!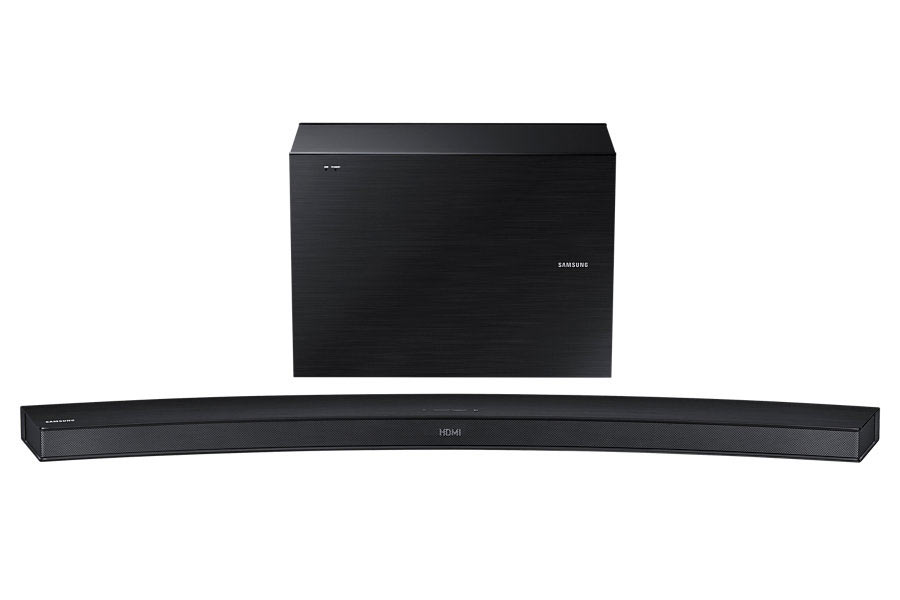 Modern and Sleek Design
Of course the sound quality and features make this soundbar stand out, but the way it looks really tops it off.
The shape of the soundbar perfectly matches a 48-inch curved Samsung TV to give you a sleek look in your living room. Even the subwoofer is small and neat enough so you can easily stand it out of the way.
Features
2.1 Ch system
300W Total power
Bluetooth
Wireless Sub
Curved design
1 Year warranty
Connections
1 x HDMI in
1 x Optical In
1 x Audio In
Dimensions:
(W x H x D) 1078 x 47.5 x 129 mm (soundbar)
(W x H x D) 452 x 335 x 154 mm (subwoofer)
Weight:
Soundbar: 2.7kg
Subwoofer: 6.8kg