The perfect choice for your child's room giving them comfort and support whilst busy with their homework.
Dimensions: H87 x W46 x D45 cm / H34.2 x W18.1 x D17.7 Inches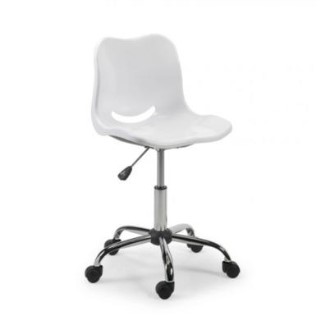 Quick feature summary:
• Highly versatile design
• Fresh white finish
• Wipe clean plastic seat
• Shapely seat for comfort and support
• Practical swivel seat
• Gas lift for adjustable height
• Chrome base
• Smooth wheels
How big am I?
This simple swivel chair has been designed specifically for younger ones. The seat has a shapely back giving great comfort and support whilst hard at homework or arts and crafts. With a gas lift the height of the seat can be adjusted to reach the perfect position at your desk. The swivel seat and castors making working at a large desk minimal effort and we all know all kids love a swivel chair.
How do I look?
Finished in fresh white and shiny chrome this swivel chair is highly versatile, coordinating perfectly in many settings.
What am I made of?
The seat is moulded plastic to give a more supported and comfortable sit. The frame is chrome making it strong and durable.
Treat me right
With hard smooth surfaces this entire chair is easy to wipe clean. Making it great for kids!
How easy am I to put together?
Self-assembly is required with this chair however it is minimal. You can see the assembly instructions for yourself here!
Who are Julian Bown?
Julian Bowen have been supplying the UK for 27 years with value for money furniture. Each of their products is carefully researched to respond to the needs and aspirations of the final consumer in terms of design, quality and price. Julian Bowen have been awarded the title of the UK's best furniture wholesaler for the second consecutive year.