Sideboards have a variety of uses, making them ideal for any family home. Store and organise without compromising on style, and introduce this striking, modern feature into your home.
Dimensions: W200 x D50 x H83 cm /W78.7 x D19.6 x H32.6 Inches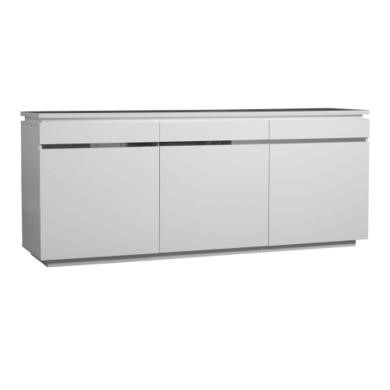 Quick feature summary:
• Solid design, built to last
• Stylish storage built for practicality and your convinience
• Smooth, easy clean high-gloss white finish
• A wealth of easy access storage with 3 cupboards
• Fitted interior shelving ideal for neat organisation
• This item is also available in black
How big am I?
The Electra sideboard has one single and one double cupboard, giving you easy access, concealed storage. Benefiting from interior shelves in each cupbaord this sideboard will enhance your organisation of important items, whilsy keeping your room clutter free. With a solid, sleek design the unit fits neatly against the wall,saving you precious floor space.
How do I look?
The ultimate in modern design, this piece is guaranteed to be noticed in your room! Clean lines and solid shapes combine to create a sleek, high quality product with a beautiful contemporary designs. The bright high-gloss white finish helps illumanate your room, enhancing the feeling of light open space.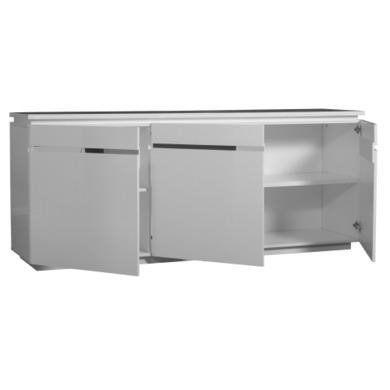 What am I made of?
Crafted from hard wood this item is a strong, quality pice of furniture. Finished in an ultra modern high-gloss white veneer, makign the unit smooth to the touch and shiny.
Treat me right
Incredibly easy to keep clean, and maintain a sleek finish. Simply spray with a small amount of polish, combined with a duster to enhance it's natural shine.
How easy am I to put together?
Arriving flat packed, accompanied with easy to follow step by step instructions. As with any flat pack furniture for safe and easy construction we would recommend this item to be assembled by two people.
Who Are Skylight?
Creating innovative designs for the past 60 years Skylight are a french manufacturer on the Champagne-Ardenne(Dieneville) region. Equipped with the lastest furniture manufacturing tools, Skylight boast of a completly automated process that ensures precise, quality production. Known for hand finishing each piece of furniture, therefor guaranteeing a high quality porduct.