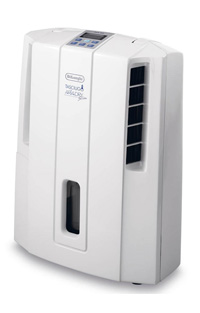 REMOVE MOULD, DAMP & MILDEW ANYWHERE
Use the DeLonghi DES16E dehumidifier to removes excess moisture from the air that's created on a daily basis from cooking, drying clothes and showering. Humidity causes condensation on walls and surface that can lead to mould, mildrew, dusty smells and other damp-related problems. This ultra slim-line model features built-in castors and a carry handle for you to move from room to room with ease. The dehumidifier can also be used to dry clothes faster and will work effectively at all temperatures as low as 2 degrees.

PORTABLE DESIGN
This portable unit can easily be moved from one room to another. The electronic control panel allows you to monitor and control the rooms humidity and temperature with ease.
VISIBLE WATER LEVEL
The transparent tank lets you see the dehumidifier performance while it is working. Once the 3L tank is full the dehumidifier automatically stops extraction to avoid overflowing.
DRY CLOTHES
Use the dehumidifier to dry your clothes inside during on the those cold winter days without causing a build up of condensation. It also dries your clothes quicker too.
SPACE SAVING DESIGN
This slim-line model is suitable for areas with little space but high levels of humidity. It's designed to fit discreetly into the home thanks to it's compact body.
Features:
Tank capacity: 3L
Dimensions H19 x W48.5 x D37.5cm
Bio Silver Tech System
Guarantee 1 year guarantee included
Adjustable humidistat: Electronic
built-in castors
Electronic anti-frost device
Continuous drainage facility removes the need to empty the unit which is particularly useful for premises which are left unattended for extended periods.
2 speed fan varying the speed of the fan allows you to change the amount of water being extracted from the air.
Quiet operation: 38 - 42dB
Perfect for drying clothes
Ideal for rooms up to 75Sqm
Compact design with pull handle for easy movement around the home
Weight 9kg