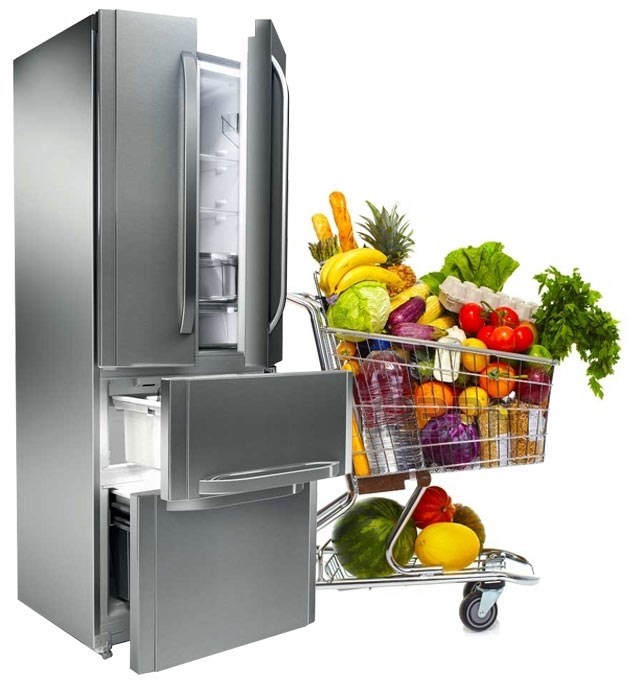 Dimensions: H195.5 x W70 x D76 cm
Fridge capacity: 292.0 lt
Freezer capacity: 110.0 lt
Please be aware that this is an American style fridge freezer. We advise that you carefully measure the space you have available before purchasing to avoid disappointment!
A whole lot more space but still a compact design
The Hotpoint FFU4DX is an American style four door fridge freezer offering more than enough storage for your fresh and frozen items at only 70cm wide. All in all this fridge freezer has 424 litres of space which is the equivalent of holding up to two shopping trolleys full of scrumptious food.
Storage to suit you
1 - The Hotpoint FFU4DX has a variety of storage options that are also adjustable for you to position and rearrange to best suit you and you're shopping.
Three safety glass shelves hold all your food and containers in the main section of the fridge, these shelves are height adjustable and easy to wipe clean.
With six door balconies between the two doors you have ample space for bottles, jars and smaller items, especially those you need to keep upright.
The fridge also includes a wine rack which perfectly chills your favourite selections.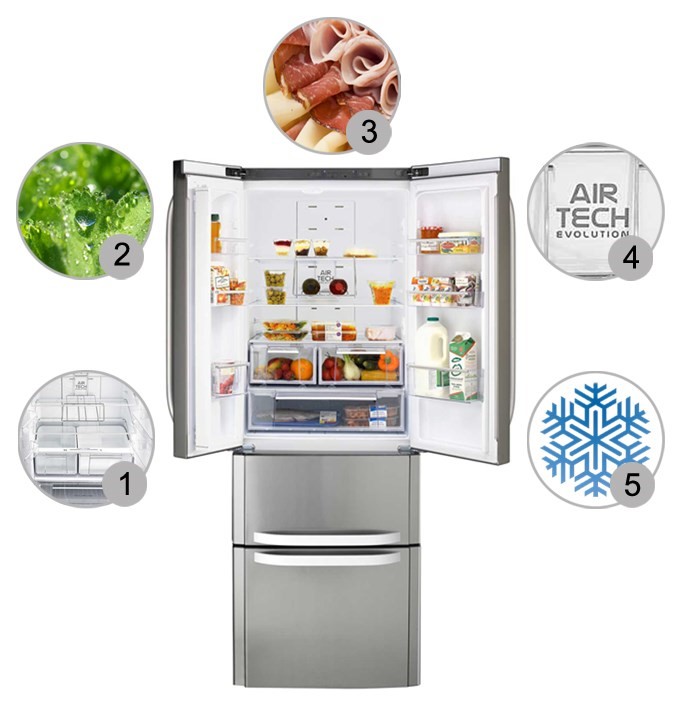 Maintain freshness and flavour
This fridge freezer has a variety of food storage options which work to prolong the freshness of your food as well as lock in the flavours and nutrients.
2 - There are two salad crispers where you can segregate your fruit and veg within the fridge and these separate storage areas control humidity, locking in freshness, flavour and everything that's good for you, prolonging your fresh foods life.
3 - With a chiller compartment which is kept at a lower temperature than the rest of the fridge you can store items such as fresh meats and rest assured they will maintain their flavour and nutrients for longer.
4 – This fridge has an Air Tech Evolution system for improved performance. This guarantees a constant and uniformed temperature inside the fridge as well a faster cooling speed. Delivering better food preservation, resulting in less food waste.
Defrosting your freezer is a thing of the past
5 - Frost free technology means you'll no longer need to waste time and effort defrosting your freezer and no longer will food packets and boxes have a layer of ice. The fridge will also remain frost free.
The freezer has a fast freeze compartment which comes in very handy for when you've just come back from a big shop. This compartment drops in temperature quickly to freeze and lock in all the goodness of the products you've just brought, preserving them perfectly until you're ready to use them.
Hotpoint FFU4DX will also maintain its energy rating of A+ for longer! Running efficiently for longer, saving you money.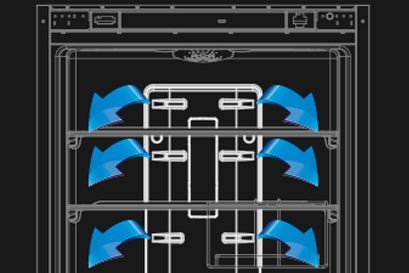 Features
A+ Energy rating
Energy consumption: 377 kWh
Hygiene control
Fast freeze
Frost free
Fast cooling switch
I Care – intelligent refrigeration
Holiday function
Noise level: 42 dB