Smart, solid, and compact, the 2 zone solid plate hob from Zanussi is perfect for smaller kitchens and households, or those who want to reduce the size of their cookware without sacrificing on quality.
Electric Hob
Rotary controls
Affordable cooking
Stainles steel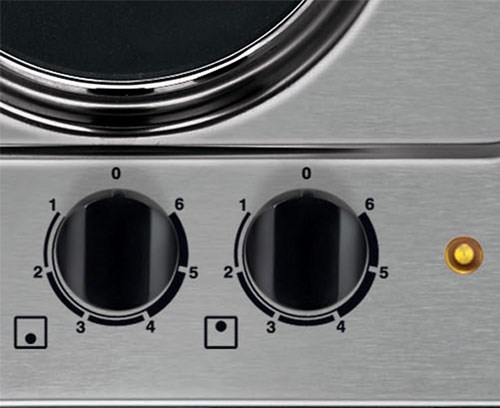 It's Accessible
The combination of an easy-to-use electric hob and a front knob controlled panel makes the hob super accessible. Not only do you not have to lean around hot pans to adjust heat, but the electric powered hob means that the heat is contained and not an exposed flame.
Two different sized cooking zones becomes invaluable for all types of cooking. If you're boiling pasta and a sauce separately, or having to cook for visiting family members, big and small hob plates prepare you for any occasion!
It's robust
With solid plates encased in a durable and smart stainless steel, this hob is strong and reliable. The thick rimmed stainless steel around the plates creates strong and well-built cooking zones that could withstand a light pan of pasta, or a heavier pot of steaming stew.
With firm rotary controls, this hob is both stylish and impenetrable, easy-to-clean with a hard-wearing stainless steel casing, and a long-lasting finish.
Space-saving
As a modular domino hob, you can mix, match and fit this appliance to any kitchen.
Perfect as a starter hob, you can fit this snuggly on a countertop and still have space leftover for food preparation!
However you can also match this up with another hob to create a 6 zone sensation! Take a look at our fantastic range of matching stainless steel 4 zone hobs from Zanussi and see if this 2 zone hob can become a space-restrained treasure, or an invaluable sidekick, tagged to a four zone to become a 6 zone cooking station!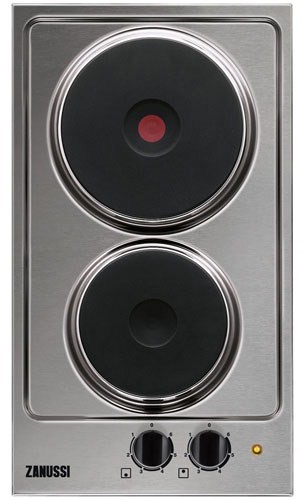 Features:
Modular Domino hobs to mix, match and fit any kitchen
Electric hob for easy, affordable cooking
Front-knob control panel for easy access
Two different cooking zones for more flexibility
Easy to reach front controls
Rotary controls
Middle rear zone: Red Dot-Solid H.Plate + Temp.Lim - 1500W/180mm
Middle front zone: Solid H.Plate + Temp.Lim - 1000W/145mm
Manufacturer: Zanussi
Colour: Stainless Steel