With 9 power levels, a host of sophisticated features and a stylish design, the 4 zone ceramic hob from Matrix combines quality and performance to a deliver a superb cooking appliance that will ensure you get cooking done efficiently and effortlessly.
Dimensions: (H) 48mm x (W) 580mm x (D) 510mm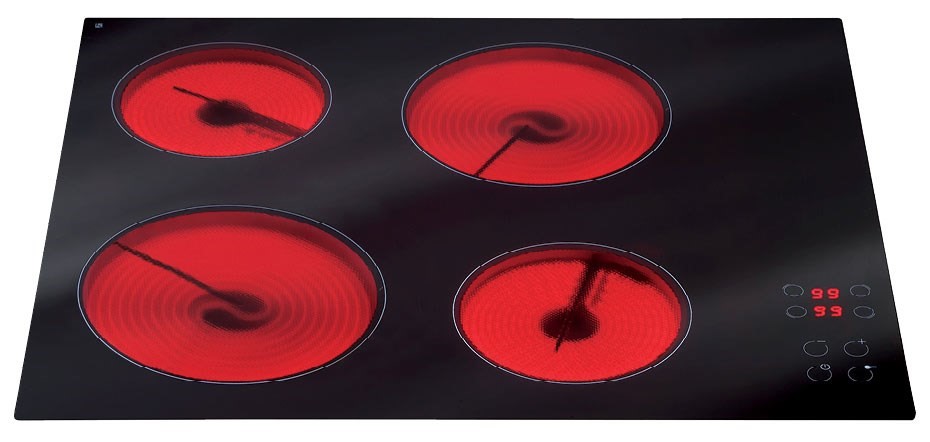 Powerful
This hob offers flexible cooking with the option of 9 power levels for each hob zone. From gently warming pans of butter to flash frying steaks, there is a power setting that's suitable for all types of cooking methods and foods.
To give your cooking a kick-start, you can use the booster function that will set the zone to its maximum power for a set period of time before returning to normal functioning, which will come in handy for boiling pans of water quickly and getting large pans of food heated fast.
Touch controlled
Change temperatures and alter features at the fingertip press of a button. The touch controls on this hob look great and are easy to clean as you can simply wipe over the top of them for a truly thorough clean of the hob surface. The controls are placed at the side of the hob which makes it easier to access the zones when you are using them.
Shatterproof glass
The glass on this hob is ceramic shatterproof safety glass. This means that if the glass were to crack, it would not shatter into large pieces and the damage would stay safely in tact until you were able to sort it out.
Overflow detection
In case a saucepan of water or food accidentally boils over and spills onto the control panel, the anti-overflow detection feature will automatically switch off the hob so that you can safely wipe the spillage off the controls.
Safety Features
To make sure your kitchen remains a safe environment to cook in, this touch controlled ceramic hob comes with 2 important safety features:
Residual heat indicators: These heat indicators will keep you aware of when the hob is still too hot to touch by staying lit up on the hob display until the hob has sufficiently cooled.
Child safety lock: Prevent accidental usage of the hob by pressing the lock button to make the control panel inactive until you unlock it. This is also handy to prevent you from altering the temperature of a zone in use.
Easy to clean
The glass ceramic surface can be wiped clean of food splatters and sauce spillages making it absolutely effortless when caring for this hob. If you want to give the hob some extra TLC, then take a look at purchasing this ceramic hob care kit to keep the surface looking as good as new.
Zone information
Front left: 1.7-180 kW/mm
Front right: 1.2-145 kW/mm
Rear left: 1.2-145 kW/mm
Rear right: 1.7-180 kW/mm
Technical Specification
Power supply required 32A
Rated electrical power 5.8kW
4 zone ceramic hob
9 power levels
Touch controlled
Overflow detection
Shatterproof glass

Matrix guarantee
All Matrix products are extensively tested to ensure complete assurance of quality and reliability.

2 Year Warranty
The entire Matrix range is covered by a 2 year warranty guarantee, offering support and maintenance.

Style & design
Products from the range are designed with the idea to combine modern functionality with timeless aesthetics.

The CDA Group
Matrix is part of the CDA group and has been established in the appliance world for over 10 years.