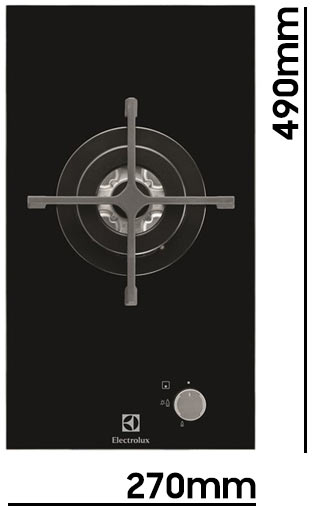 This gas on glass style hob lets you enjoy the best of both worlds with its triple-crown Wok burner for instant heat and a smooth, easy to clean ceramic surface. This sleek and stylish Domino gas wok hob can be mixed & matched with other cooker tops to create a bespoke cooking area that's all your own.
The wok burner comes with cast iron pan supports as well as automatic ignition and flame failure fitted as standard. Plus, the control dial is conveniently positioned at the front of the hob for quick and easy access while cooking.

EASY CLEAN
The ceramic glass surface of this hob is very easy to clean. Splatters and spillages can be simply wiped away thanks to the smooth surface, so you can effortlessly maintain that pristine, contemporary look.
AUTO FLAME ON
Fire up the hob in an instant and enjoy quick and easy cooking operation using only one hand. Simply push and twist the dial to activate the wok burner. It comes in useful when you're multi-tasking preparing food.
CAST IRON SUPPORTS
The wok burner is accompanied with cast iron pan supports to provide your pots and pans with extra security and stability when cooking. They're designed to withstand heavy wear and take the weight of heavier woks.
AUTO GAS OFF
For added peace of mind, this clever hob is monitored by a flame failure safety device which automatically cuts the gas supply if the flame accidently extinguishes, thus reducing any risk of a gas leakage.
Key Features
Modular hob for a kitchen where anything is possible
High-power triple-crown burner for intense heat
Cast-iron supports to provide a robust and durable cooking base
Automatic hob ignition allows you to get started without delay
Automatic gas cut-off – a practical solution for peace of mind
An easy-to-clean ceramic glass surface
Automatic integrated ignition
Easy to reach front controls
Safety gas cut off using thermocouples
Easy clean ceramic surface