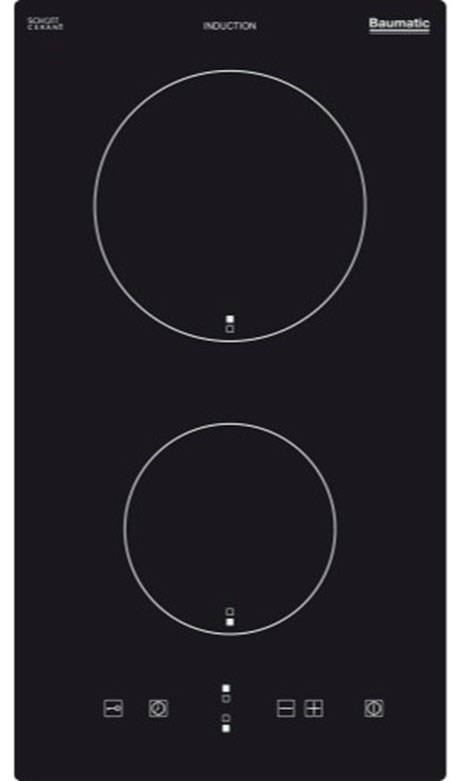 With powerful cooking performance at the touch of a fingertip, the Baumatic domino induction hob proves that great things don't always come in massive sizes. Using cutting-edge cooking technologies and design, this hob will have a positive impact on your kitchen and your cooking.
Dimensions: (H) 56mm x (W) 288mm x (D) 520mm
Modern design
Designed to be sleek and modern, this domino hob has a stylish black glass design finished with crisp white outlines for a sharp, clean and easy to use look.
With a frameless design, the hob will merge seamlessly into your kitchen countertop – a perfect solution for smaller kitchens where space is treasured.
Powerful Induction technology
Using induction technology, this Baumatic hob uses a magnetic coil under its glass surface to heat just the base of your pan the moment it makes contact with the hob. Heat is channelled through to the base of your pan, making the electriQ induction hob safe to use because no part of the hob gets hot, leaving zones cool to the touch.
Induction cooking uses 90% of the energy produced during the cooking process which makes it one of the most economical and efficient cooking technologies available.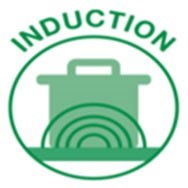 Multiple set-ups
If you want you can install this hob alongside another Baumatic domino gas hob for the ultimate cooking station. With both a gas and induction hob side by side, you can have versatility in your cooking that dual fuel can bring.
Please note: This particular induction hob has a fuse size of 20 amps, which needs to be connected to power that can accommodate 20amps or above. This hob needs to be hardwired by a qualified engineer.
Touch-controlled
With temperatures, functions, timers and a safety lock all programmable at the touch of a fingertip, this induction hob has been made to be easy to understand and use.
2 individual residual heat indicators will give a clear indication if the hob temperature is above 65°C, so that you will know when you can touch or clean it.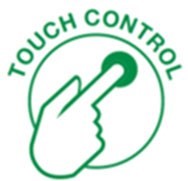 Electronic timer
For cooking convenience, this domino hob comes with an electronic timer that can be set for up to 90 minutes, leaving you free to get on with other things knowing that your food is in safe hands and will alert you to check on your meal.
Standard accessories
Technical information
Fuse rating (AMPS): 20
Hob Type - Induction Hob
Energy Type - electric induction
1 x 2.00 kW induction zone , Ø 180 mm
1 x 1.50 kW induction zone , Ø 140 mm
Induction domino hob
Touch controls
Can be installed alone or with a Baumatic domino gas hob for the ultimate cooking station
Electronic timer
Safety lock