This white canopy hood from candy is ideal for kitchens where space is premium, as it integrates into a kitchen cabinet. With a 170 m³/hr extraction rate, 3 speeds, 2 energy efficient lights and an acrylic grease filter, this canopy hood comes equipped with everything you need to banish unwanted cooking odours and steam.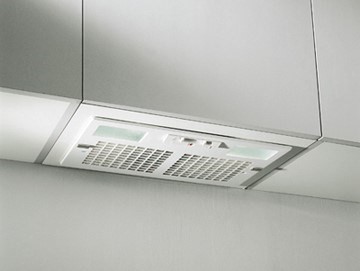 HOW WILL THIS LOOK IN MY KITCHEN?
Canopy hoods are designed to install into a kitchen cabinet and hang through the base of the cabinet over the hob. They are ideal for those who don't want a cooker hood interrupting their kitchen design or kitchens that have limited space.
Please measure the dimensions of this canopy hood carefully against your available space to make sure it will fit before you buy:
Dimensions: (H) 18.1cm x (W) 52cm x (D) 28.5cm
Still not sure if this is the cooker hood for you? Then take a look at our Cooker Hoods Buying Guide for more information on canopy hoods and other types of cooker hoods.
CONTROLLABLE EXTRACTION RATE
The maximum extraction rate for this canopy cooker hood is 170 m³/hr which is perfect for smaller kitchens. The extraction rate can be adjusted to run at 3 speed levels via handy slider controls at the front of the hood, providing you with a way of controlling the extraction based on the amount of food cooking and the level of steam emitted.
SUITABLE FOR DUCTING AND RECIRCULATING EXTRACTION
This canopy cooker hood can be positioned in a kitchen that has access to the outside as well as one that doesn't, because it can be installed to recirculate or duct out cooking odours and steams.
WELL ILLUMINATED
The 2 lights in this canopy hood will make it much easier to cook at night and see the hob clearer. The bulbs are halogen which means they will last longer and are more energy efficient, saving you a few pennies on the energy bills!
TECHNICAL INFORMATION
Maximum extraction rate: 170 m³/hr
3 speed settings
Energy Efficiency Index (Class / Value): E / 107.7
Voltage: 220-240
Frequency: 50Hz
INSTALLATION INFORMATION
Installs into a kitchen cabinet.
Designed to have a furniture fascia that matches your cabinets placed in front of the hood.
Functional part of the hood hangs through the underside of the cabinet.
Dimensions: (H) 18.1cm x (W) 52cm x (D) 28.5cm
52cm Canopy hood
Perfect for compact kitchens
170 m³/hr extraction rate
3 speed settings
Suitable for ducted out and recirculation