Dimensions:
H80 x W52 x D28.5 cm
Extract or recirculate 3 Speeds
Slider controls
Extraction rate: 280m3/h
Halogen lighting
Acrylic grease filter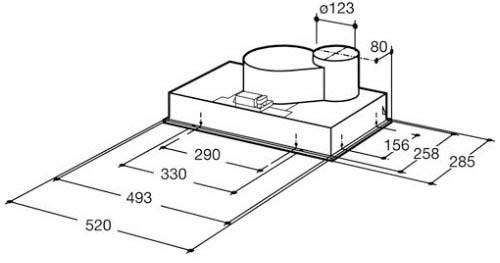 Extract or recirculate
The Candy CBG620N cooker hood delivers a maximum extraction rate of 280m3/h which makes it ideal for small to medium sized kitchens. With the ability to extract or recirculate the steam and odours produced in your kitchen this model can be fitted in any home, recirculation is an ideal route when you aren't able to vent out, for example those living in blocks of flats.
If you do choose to recirculate the air in your kitchen the Candy CBG620N comes equipped with charcoal filters ready to use. If you decide to extract the air you will need to purchase a ducting kit, the outlet diameter is 123mm.
Equipped with acrylic grease filters all particles and grease will be efficiently trapped. The acrylic filter is easy to remove for cleaning to keep it performing at its best.
Simple control
There are three speed settings available on an easy to use slider control. Simply slide up the power the more steam and odours occur in your kitchen. The halogen lighting is also controlled by a slider, making the Candy CBG620N very simple to operate.

Sleek aesthetic
Finished in black the Candy CBG620N is a stylish addition to your kitchen. The integrated design won't over power your space and helps to create a seamless look within your kitchen. Featuring two halogen lights the hood creates a visually pleasing ambiance within your space whilst clearly illuminating your cooking space.
Features:
Extract or recirculate
3 Speeds
Slider controls
Extraction rate: 280m3/h
Halogen lighting
Acrylic grease filter
Charcoal filters included for recirculating
Air outlet diameter: 123mm
Black finish