Product Information
Easily extend your homes Wi-Fi to get coverage in every room. The NETGEAR PowerLine 500+ creates a new Wi-Fi access point where you need it most by using PowerLine technology.
How it works
1 - Plug one adapter in to a socket near your existing router, connect these two with the supplied cable.
2 - Plug the second adapter in to the room of your choice. You can then use this adapter wirelessly or via an Ethernet cable.
Features
Pick-a-plug
The front of the adapters have LED indicators to show you the strength of the connection at any electrical outlet. This will allow you to pick the best socket for optimum power line performance.
Compact
A convenient, mini-design makes these adapters blend in to their surroundings effortlessly. Making it super easy to place around our home discreetly.
Push-and-secure
With just the touch of a button you can easily secure the power line network, no need to remember passwords.
Energy saving
When not in use or not connected the adapters will automatically power down to less than 0.5 Watts in stand-by mode.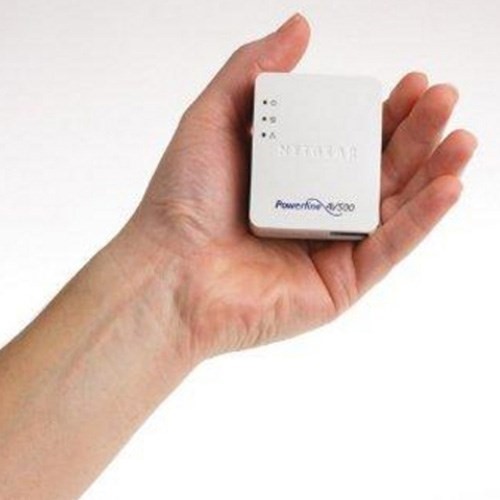 Ideal for...
These adapters are great for giving Wi-Fi coverage to your entire house. You could plug the second adapter in to a socket in a bedroom upstairs, use the Ethernet connection for a smart TV or games console and still utilise the Wi-Fi supplied for mobiles and tablets upstairs.
A great solution for larger homes as one home power line network can have up to 16 adapters added to it.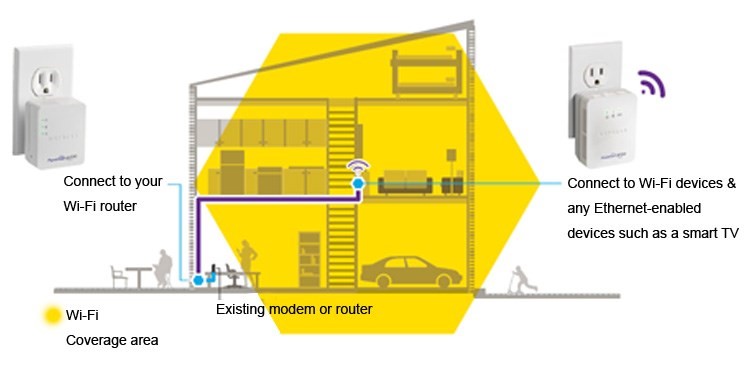 Features:
Easily extend your home network
Create a high speed Wi-Fi N access point
Uses PowerLine technology
Compact design
2 Adapters included
Simple installation
Plug straight into your power sockets
Pick-a-Plug LED identifies best outlet for optimal performance
Connect wirelessly or via cable
Ideal for streaming HD video and music
Push-and-secure protects the PowerLine connection
Energy saving features