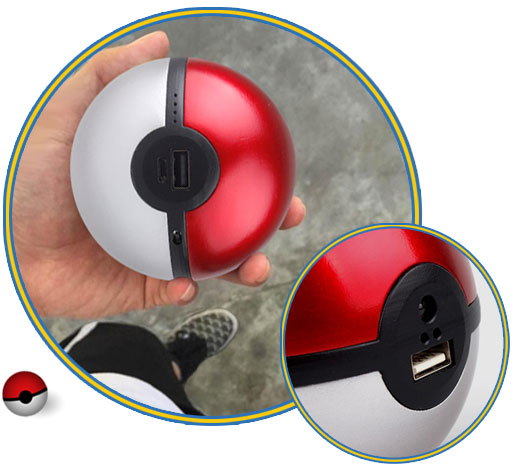 Whether Pokémon was a joy of your childhood or it's the current trend at school or work, Pokémon lovers of all ages will appreciate the Pokéball Power Bank.
Not your standard power bank, this Pokéball inspired design features an impressive 8000mAh battery capacity, enough to charge your phone 4 times. There's also an LED light should you be hunting Pokémon after dark!
Small and light with a diameter of just 8.5cm the Pokéball Power Bank comfortably fits into the palm of your hand, just like a real Pokéball would!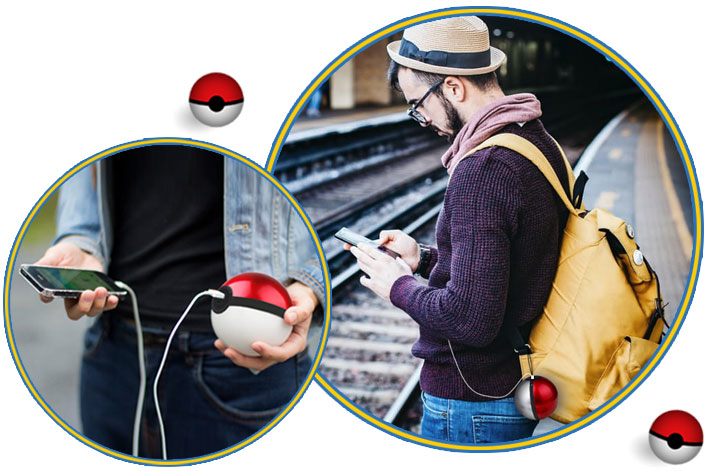 We're all familiar with the newest craze…Pokémon Go! And we're all suffering the downside of how draining it can be on our phone battery, yet we still need to catch 'em all! The Pokéball Power Bank is the perfect solution for accompanying you whilst on your Pokémon Go journey.
The power bank features a practical lanyard hole, making it super easy for you to fix the Pokéball to your person for on the go charging.
Wear it round your neck for easy access charging when you're searching the long grass for Bulbasaur's. Clip it to your bag and charge on the move when there's nothing around but Rattata's.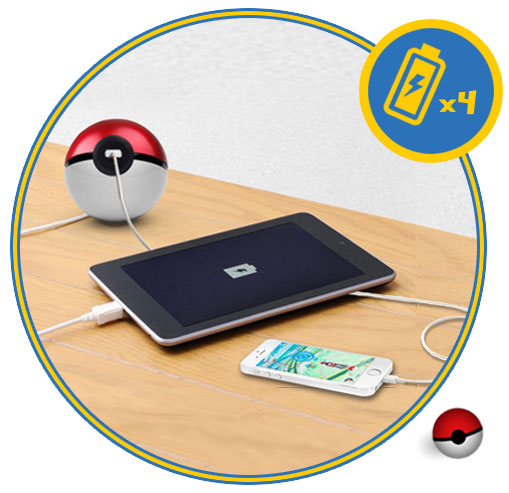 With two USB outputs the Pokéball Power Bank is a dual charger. Conveniently charge two devices at once. Perfect if you have a loyal sidekick to join you on your Pokémon adventure.
The Pokéball can charge any USB powered device; phones, tablets, e-readers and even hand held games consoles like the Nintendo DS3, perfect timing for the newest Pokémon game.
With the Pokéball's huge 8000mAh battery capacity, delivering 4 full phone charges you'll never miss a catch again! 4 LED lights on the side of the Pokéball indicate how much power the Pokéball has remaining. Simply connect your Pokéball to the mains to power it up.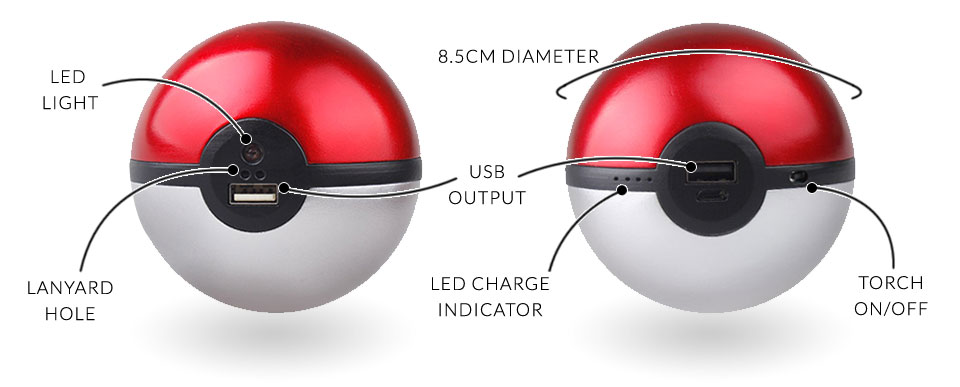 Features:
Fun Pokéball design ideal for pokémon lovers of all ages
Just what you need when playing PokémonGo
A perfect gift idea for friends and family
Charge 2 devices at once with 2 USB ports
Powerful charging - 8000mAh battery capacity -delivers 4 full phone charges
Small sphere design with a 8.5cm diameter
Durable design that's highly portable
Lanyard hole for easy attachment
LED Power remaining indicator
Switch on LED torch
Safety protected from over charging & short circuiting