Product Information
An easy solution for better Wi-Fi. The Netgear WN2000RPT Wireless-N300 Universal Range Extender effortlessly boosts your existing Wi-Fi coverage. Giving you the freedom to move around the home and not lose connection.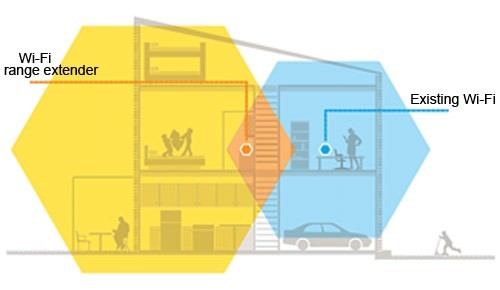 Get connected and stay connected
Keep your current wireless equipment and simply boost its capabilities. Improving coverage and helping to eliminate dead zones this range extender offers more roaming freedom in the home without losing connection.
The possibilities…
As well as enhancing your coverage the range extender will also improve your Wi-Fi speed. Great for all wireless devices such as your smart phone or tablet as the wireless connection is strengthened. Saving you from eating up all your data usage at home when you should be securely connected to Wi-Fi. Use the range extender to its fullest potential and utilise the four fast Ethernet ports at the back, perfect for devices such as blu-ray players, games consoles, smart TV's or streaming players to your Wi-Fi network.

Installation
The range extender plugs in to the mains via a cable. The design of the range extender is sleek and smart, blending well in to an office or sitting discreetly in the room of your choice.
There's no CDs needed for set up, installation can be done through any web browser, making it very easy to get all your devices connected. With a step by step graphical guide installation is easy. Push 'N' Connect Wi-Fi protected set up makes connecting quick and secure. The range extender has a real time link-rate LED to locate the best placement spot to receive optimum wireless coverage.
Works with any wireless b/g/n router or gateway from NETGEAR and other brands.
Features:
Universal Wi-Fi range extender
Boost your existing Wi-Fi
Improve coverage and eliminate dead zones
Freedom to move around and stay connected
Works with any wireless b/g/n router
Graphical installation guide
Web browser installation
4 Ethernet ports
Real-time link-rate LED locates best placement to provide optimal coverage
Ideal for smart phones, tablets, smart TV's and games consoles