Product Information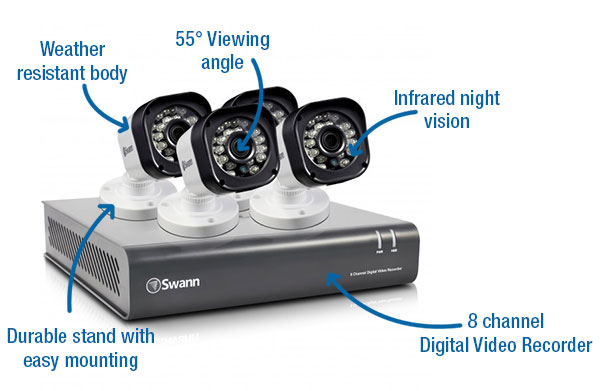 SIMPLE SECURITY
Adding an extra level of security to your home, the Swann DVR8-1580 CCTV kit is extremely easy to install. Also acting as a deterrent to thieves, this kit is ideal for the home or a small business. Mount each camera to monitor key points such as doors or windows and access live and recorded footage from wherever you are.
SEE MORE
Keep track of more of what is going on around your property with the wider 55° viewing angle from each camera. Delivering high definition 720p results, you will be able to see more important details, helping you to identify faces and more. Add more cameras to your kit for more comprehensive results.
INDOOR & OUT
Ideal for use indoor or out, the T835 cameras provided with this kit provide convenient and extensive mounting options, securing your home to the maximum. The IP66 rated body helps each camera deliver the same high quality results even during periods of heavy rain or snow.

EASY TO INSTALL
Choose the prime location to mount each of your cameras to provide the best view of your property. This wired system means the cameras are connected directly to the DVR using the provided BNC cables.
DAY & NIGHT
Giving you 24-hour coverage, the T835 cameras provide detailed footage during the day and night, with the same high quality results. Infrared night vision technology helps you to see up to 20m through the darkness, perfect for monitoring a garden, yard or car park.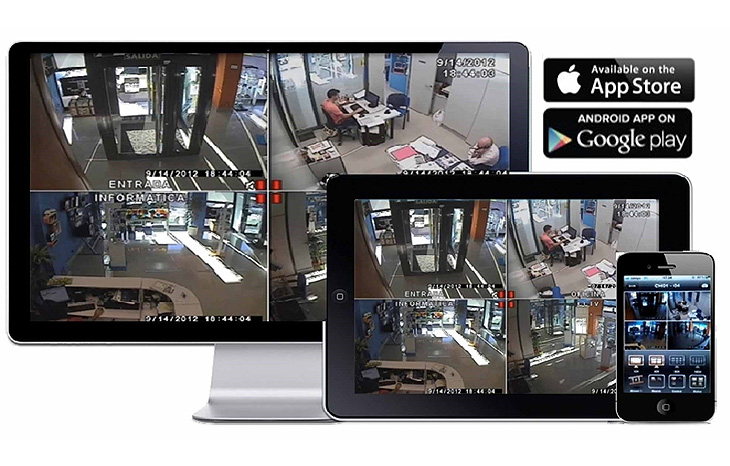 SET & FORGET
Recording over 50 days of footage, the DVR8-1580 DVR and 500GB hard drive help you to record and store more of what matters, giving you added peace of mind and security while you are away for longer periods. Locate key moments and save them to a USB or network for easy viewing and sharing.
SMARTER VIEWING
Access your system from around the world, or simply your desk at work, with Swann's dedicated SwannLink app. Watch using your smartphone, tablet or PC to keep an eye on what is going on at home for the ultimate peace of mind.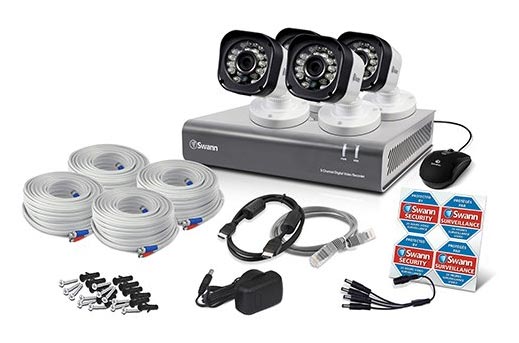 WHAT'S IN THE BOX?
-DVR8-1580™ with 500GB Hard Drive
-PRO-T835™ 720p Cameras x 4
-BNC Cables 60ft / 18m x 4
-Ethernet Cable
-HDMI Cable
-Power Adapter & Splitter
-Mouse
-Mounting Screws & Plugs
-Quick Start Guide
-Theft Deterrent Stickers
Features
An advanced & easy to use surveillance system with 720p high definition video to see & protect your premises
Set & forget by recording from 8 channels for 50 days+ onto a 500GB hard drive
Seeing is believing with 4 x 720p (1 Megapixel) HD cameras offering 65ft/20m infrared night vision & durable construction for indoors or outdoors. Expand by adding 4 more Swann PRO-T835 or T836 cameras for full 8 channel monitoring
Save time & have peace of mind by easily locating incident video, then transfer to external storage via USB or network
View live or playback video in high definition on your HDTV, LCD screen or monitor via HDMI connection or VGA port
Surveillance in the palm of your hand with live viewing on Smartphone & tablets including iPhones, iPads & Android devices using the free SwannView Link app
Cut the cost of crime & know what's happening with this expandable HD security system to suit homes, offices, small businesses & retail stores