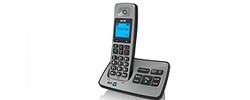 Home Phones
When it comes to home telephones, Laptops Direct offer a wide range of phones to suit your needs. Whether you're seeking the traditional feel that comes with a corded telephone or the added convenience and mobility of a cordless DECT phone, we're sure you'll find something that meets your budget and style. See below for our latest range of offers on all the leading brands.


Sorry, we can't seem to find what you were looking for...
Hints to improve your search:
Ensure you have spelled all search words correctly.
Use fewer search words.
Use more general search words.
Use similar words.