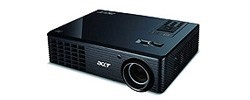 Projectors
If you want to be immersed in a truly remarkable viewing experience then a projector may be for you. Projectors are very versatile making them ideal for watching your favourite movies on the big screen, delivering professional business presentations, or using them as a teaching aid in a classroom. So whatever projector you're after, be sure to check below.
Sorry, we can't seem to find what you were looking for...
Hints to improve your search:
Ensure you have spelled all search words correctly.
Use fewer search words.
Use more general search words.
Use similar words.