With a clean white minimalist design, this composite two bowl sink form CDA is durable, stylish and will stand up to the rough and tumble of a busy kitchen.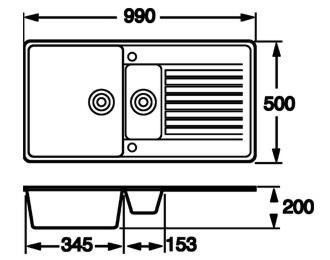 HOW WILL IT FIT IN MY KITCHEN?
This sink is designed to sit into your kitchen countertop for a streamlined and smooth look. Please measure the dimensions carefully before ordering and ensure that you have at least 200mm in and under the countertop for the sink to be fitted:
Dimensions: (H) 200 x (W) 990 x (D) 500 mm
Cut-out needed in countertop: (H) 200mm x (W) 990mm
HOW WILL THIS LOOK IN MY KITCHEN?
The clean white colour of this composite sink makes it suitable for a variety of kitchens as it will compliment most countertop colours and kitchen appliances.
The material is scratch and chip resistant so that it can continue to take clatters and bangs of saucepans, knives and plates and still look as good as new. To deal with searing hot pans and pots, this CDA sink has a temperature tolerance up to 180°C so it won't mark with hot cookware placed in it.
OPTIONAL CO-ORDINATING ACCESSORIES PA2
Turn this from a sink to a fully-fledged workstation with the CDA sink accessory pack. Decked out with a stainless steel bowl basket for catching pesky teaspoons, a colander and a smooth wooden chopping board, exercise your pro-chef skills right from washing and preparing the veg to cleaning up afterwards. Click here to get yours!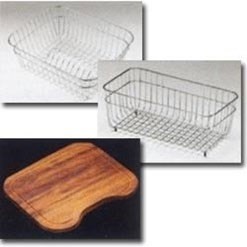 Clean white composite sink
2 bowls for washing versatility
Scratch and chip resistant
Temperature tolerance up to 180°C
Optional accessory pack