DIMENSIONS H 815 x W 596 x D 550mm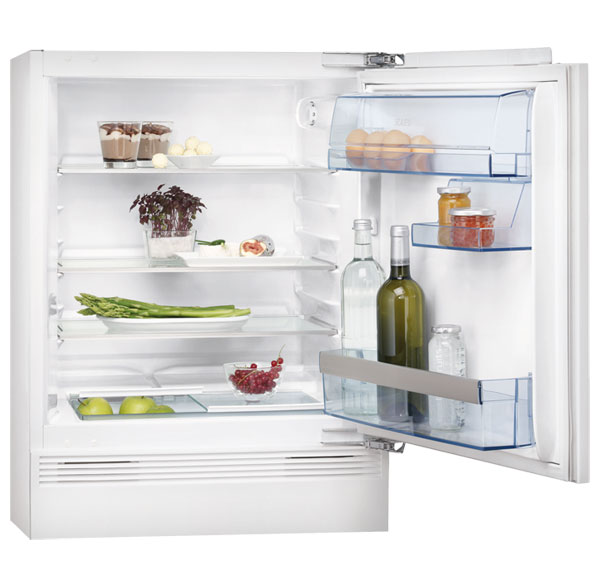 Compact in design, but surprisingly spacious inside, the AEG SKS58200F0 under counter fridge is the perfect addition to any home. Offering plenty of storage space, with effective cooling and useful features, this fridge is extremely convenient.
Rated A+ for energy efficiency, you can enjoy exceptional cooling technology without building up high energy bills.
SPACIOUS STORAGE
With three shelves, you are provided with extensive space to store your items, separating raw, fresh and cooked items with ease to avoid any contamination between items. As these are adjustable, you can quickly rearrange your fridge to accommodate larger items.
Three door balconies of different sizes provide convenient and easy to reach locations to store items from large items and cartons to jars and eggs. One door balcony also features a cover to help make fresher items last much longer.
The salad crisper is built into the bottom of the unit and is accessed via two easy-to-open lids. Providing the optimum conditions for storing fresh fruit and veg, they retain their freshness for longer. The covering lids can also be used as extra storage space, great for smaller items which can easily be moved for access.

USEFUL FEATURES
Designed to be built in, this fridge is hidden behind a cupboard door, maintaining continuity in your kitchen. The interior is extremely easy to clean. Simply wipe the bottom and walls with a damp cloth to remove any spills, marks or crumbs. With rounded corners, you can easily remove dirt from each and every area.
Precision cooling ensures the temperature cold air is distributed evenly around the fridge, delivering consistent cooling throughout. Auto-defrost prevents the build-up of any ice, keeping your fridge running for longer without the need to defrost yourself.
Key Features
Adjustable temperature control for your food storage
Full width glass shelves with metal look trim, strong, durable and easy to clean whilst helping to maintain low temperatures
Full width recessed salad drawer with 2 glass lids makes the best use of the space available
Full width covered dairy compartment is ideal for butter and cheese storage, so they can be served straight from the fridge
Half width sliding door shelf provides versatile storage space
Fridge capacity (net): 136 L
36 dB(A) noise level
Energy class: A+ (20% more efficient than standard 'A' rating)