Dimensions: H58.5 x W59.5 x D55 cm
The Belling BI60GSTA has a useable space of 48 litres, with two included shelves that have five positions available this oven is spacious and flexible. Perfectly suited for a busy family home and daily cooking.
Conventional gas oven
In conventional ovens preheat is essential. The Belling BI60GSTA is ideal for traditional cooking. Using natural convection the oven will be hotter at the top of the cavity and cooler at the bottom. This is perfect for cooking meals with multiple dishes such as your Sunday roast, the roast potatoes can be placed on the top shelf, meat in the middle and your Yorkshire puddings at the bottom, delivering you a scrumptious meal cooked to perfection all at the same time.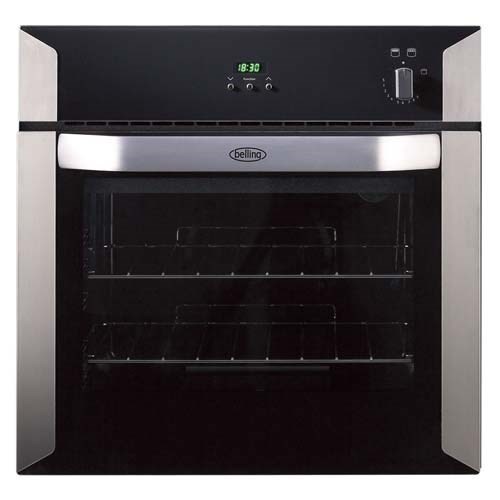 Fixed rate grill
The grill is a conventional open door grill, this allows the air inside the cavity to circulate which produces excellent grilling results rather than baking the food. By selecting a higher or lower shelf in the grill you are able to vary the speed of grilling. Designed with the British chef in mind.
Easy clean
Complete with a specially designed enamel interior the Belling BI60GSTA is super easy to wipe clean. The enamel finish prevents food from fusing to the surface which makes wiping away any spillages and splatters effortless.
The inner door, shelves and shelf runners of the oven are all removable, so when you want to do a more intense clean of your oven you can get to all the nooks and crannies easily and give all the removable parts a good scrub.
Features:
Conventional Oven
Conventional Grill
Conventional Gas (2.5 KW)
Fixed Rate Electric Grill (1.8 KW)
69 Litre Capacity
48 Litre Usable Capacity
A Energy Rating
Minute minder
Easy Clean Enamel
2 Shelves (5 positions)
Removable Shelves
Oven Light
Drop Down Glass Door
Auto Ignition
Flame Safety Device
Cooking area


Cooking Area Type - 1st Burner

Cooking Area Type - 2nd Burner

Cooking Area Type - 3rd Burner

Cooking Area Type - 4th Burner

Cooking Area Type - 5th Burner

Cooking Area Type - 6th Burner

other


Ignition type

Cooking Grid Type

Fuel type

Power


Power Output 1st Burner

Power Output 2nd Burner

Power Output 3rd Burner

Power Output 4th Burner

Power Output 5th Burner

Power Output 6th Burner

Total Power Output

Dimensions


Height

585 mm

Width

595 mm

Depth

550 mm

Warranty


Warranty

1 year