Made in Britain, this 98 litre multifunction built in double oven from Belling is designed to give you organised and versatile cooking space, whilst retaining the streamlined look of your kitchen. With easy to use control dials, a black design and green light timer, this double oven is practical and stylish –a perfect combination for a modern kitchen!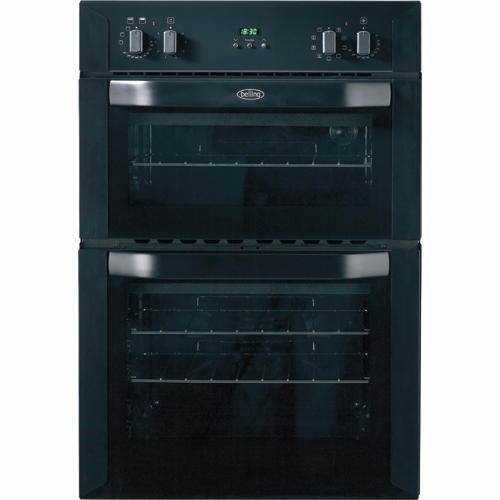 HOW WILL IT FIT IN MY KITCHEN?
Ideal for compact kitchens, this double oven is a built-in appliance so it should be fitted into a kitchen cupboard unit at eye level. Please measure out the dimensions carefully before ordering:
Dimensions of the oven: (H) 885mm X (W) 595mm (D) 550mm
Cut out space needed in your kitchen cabinet unit to fit the oven into: (H) 880mm x (W) 560mm x (D) 550mm
9 FUNCTIONS
To help achieve the best cooking results possible, this multifunction double oven comes with 9 cooking functions, from basic fanned cooking to the popular pizza programme.
Fanned cooking
Conventional cooking
Defrost
Top heat only
Pizza (top heat, base heat & fan)
Base heat only
Base heat with fan
Fanned grilling
Intensive bake
MAIN OVEN FEATURES:
Energy rating: A
With 2 oven shelves and 5 shelf positions, you can tailor the 61 litres of space in the main oven to suit each dish you cook. From batches of cakes to larger roasts, you can adjust the shelving heights to get the best cooking results possible. To save you from opening the door too much, a rear light makes it easy to see your cooking in the oven.
TOP OVEN FEATURES:
Energy rating: A
Functioning as a conventional oven with a variable electric grill, the 37 litre top oven becomes an invaluable cooking space in this double oven. From whipping up a healthy snack or browning a dish with the grill, you can either use the conventional oven as an extra cooking space for larger meals, or even as a space to keep plates warm.
EASY TO CLEAN
To give you more time cooking and less time cleaning, this built-in double oven comes with easy clean enamel. With the durable and smooth surface, food splatters simply wipe off the enamel, saving you from serious scrubbing.
FULLY PROGRAMMABLE CLOCK AND TIMER
Come home to the wonderful smell of a freshly cooked dinner with the fully programmable timer. Just set the cooking end time and cooking duration, and the oven will do the rest for you.
Multifunction double oven
9 cooking functions, with popular pizza function
98 litre usable capacity
A energy rating
Fully programmable clock and timer
A Guide to Fanned Ovens
Find out the benefits of fanned ovens, and unlock the potential.
A Fully Programmable Timer...
A useful guide on how to use the timer. Make cooking so much simpler - and save yourself time.
Multifunction Ovens
Giving you flexibility and freedom to cook a wide variety of foods. Find out more here.
Open Door Grilling
Open door grilling on a conventional grill allows the air to circulate; giving you the best results every time.