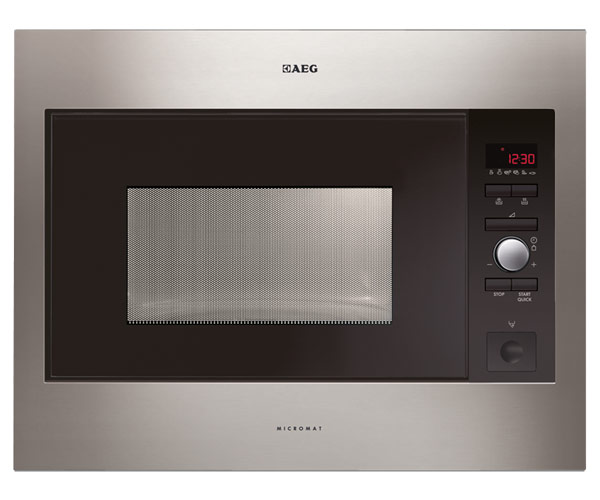 DIMENSIONS: H 459 x W 594 x D 417mm
Perfectly complementing your oven by offering added cooking space, the MC2664E-M integrated microwave from AEG is a fantastic addition to any kitchen. With the ability to build it in or build it under your counter, you are given added convenience, freeing up vital surface space.
Offering a 26L capacity, this microwave is perfect for cooking smaller items alongside your main oven, ideal for preparing a bigger meal.
EASY CONTROL
Featuring a dial control for precise power adjustment and selecting the perfect programme, alongside button controls for accurate timing, the MC2664E-M puts you in control of every cooking task, so you can be sure of exceptional results every time.
AUTO PROGRAMMES
Making cooking more convenient and giving you less to worry about, auto defrost and re-heating programmes ensure you can be confident of perfect results each time.
A memory function remembers your settings for three different cooking phases, ideal for quick cooking of items you regularly use. Including a memory function for defrost, cook and keep warm, you'll spend less time finding the right settings.
The Quick Start function is ideal to get you started using pre-programmed settings, getting you cooking at the touch of a button. Auto-weight defrosting chooses the optimum settings for your items based on the weight you select, ensuring they are fully defrosted and ready to be used.
ADDED FEATURES
The outer surface features an anti-fingerprint coating, keeping your microwave looking like new even after heavy use. An integrated child lock prevents little hands from adjusting your settings as you cook.
Key Features
Wider range of cooking options in your kitchen - This microwave is the perfect complement to your oven. It widens the range of cooking options available, as well as providing extra cooking space
The freedom to cook even larger dishes - In this microwave, you can also cook larger dishes, thanks to the 26l oven capacity
Limitless cooking - change the settings even while the microwave is operating - New 'Active' display allows you to change settings whilst the microwave is operating, for added versatility
Solo microwave
26 litre capacity
Auto weight defrosting programmes - Provides ease of use with defrosting, just select the food type and weight and the oven does the rest
Auto weight cooking programmes - Provides ease of use with cooking just select the food type and weight and the oven does the rest
Rotary knob with electronic push controls - Turn knob to select the power level, cooking time, and also for selecting weight when using auto programmes
24-hour digital clock with auto timer - Easy to set clock with a digital display and programmable timer
Quick start function - With the touch of a button, the Quick start function cooks for 30 seconds
Perfect results thanks to automatic programming - Thanks to its automatic programs for defrosting and re-heating food, you can be confident that this microwave oven will provide you with perfect results
Flexible cooking for each cooking phase - Offering a memory for three different cooking phases – Defrost, Cook and Keep Warm – this microwave makes the cooking process completely flexible
Precise control over all cooking programmes - This microwave has a clear and highly visible digital display, giving you a complete and clear overview of all programmes and your chosen settings
Power save mode
Audible cooking end signal indicates when the food is ready
Child lock - With the push of a button, prevent little hands from being able to adjust the settings or operate the microwave
Supplied with instruction book with cooking chart
Fully built-in or built-under, no kit required
Glass turntable