Dimensions: H 46 x W 758 x D 508mm / Cut-out size: W 750 x D 500mm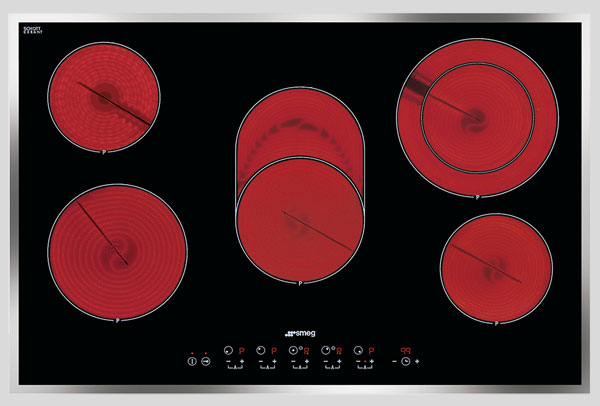 Adaptable and extremely convenient, the Smeg SE2773CX2 ceramic hob is the master of the hobs. Providing five cooking zones, quick start technology and many more intuitive features, you'll wonder how you ever managed without this hob in your kitchen!
EXTREMELY SPACIOUS
You will never run out of space on this Smeg hob, with plenty of room for preparing meals for the whole family and even guests.
The five differently sized cooking zones support pans of all sizes, from the smaller pans for boiling water to bigger pans for making a hearty stew or curry.
Adapt this hob to suit your needs every time you cook with the convenient variable zones. Whether you are using an extremely large pan, or one with a different shape such as a griddle, there really is no stopping you.
ACCURATE CONTROL
Each cooking zone has its own touch controls, offering nine power levels for precise and accurate control for brilliant results. By using the Quick Start function, you will spend less time waiting around and get straight into the cooking. This is ideal for when you are in a rush.
Power boosters provide an intense burst of heat to help you to achieve results faster, perfect for boiling water or flash frying items. An Ultra-low function is great for melting chocolate or simply heating items up. By delivering a very low temperature, smaller and more delicate jobs can be completed much more control.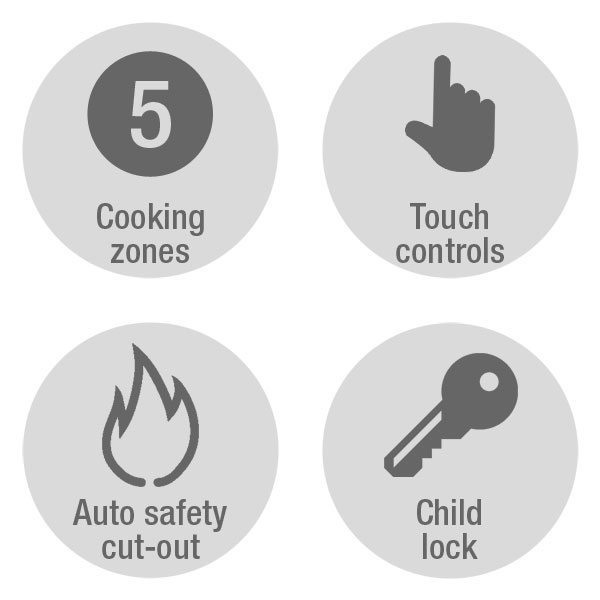 SAFETY FEATURES
A child lock helps to prevent any accidental changes to the settings while cooking, reducing the risk of any overcooking or undercooking of items. The residual heat indicators keep you informed when any of the cooking zones are still hot and unsafe to touch or clean.
Automatic safety cut off technology turns any of the cooking zones off if they reach excessive temperatures.
EASY-TO-CLEAN
The worst part about cooking has got to be the cleaning up. Spills and splashes have the habit of getting into the tightest corners, making cleaning your hob extremely difficult.
That is not the case with this Smeg hob. Designed as one piece, there are no dials, buttons or plates for dirt and grease to hide under. The ultra-smooth Suprema glass surface helps to make cleaning away any marks quick and easy, simply wipe the whole hob at once to keep it looking fresh.
Features
"Suprema" black ceramic glass
9 power zone
5 boosters
Quick start
Ultra low function
Residual heat indicators
Automatic safety cut-out
Front control panel
Technical Details
Rear left: ø 140mm, 1.2kW
Front left: ø 180mm, 1.8kW
Centre oval dual zone: ø 170/265mm, 1.4/2.2kW
Rear right dual zone: ø 140/210mm, 1.1/2.4kW
Front right: ø 140mm, 1.2kW
Nominal power 8.8KW
30 Amp power supply required