The MHC001FR 4 zone ceramic hob has a quick and manageable heat control, an easy to clean surface and a durable design that will withstand the rough and tumble of a busy kitchen. With a frameless black design, it will fit seamlessly into a kitchen countertop and complement other kitchen appliances attractively.
Dimensions: (H) 48mm x (W) 580mm x (D) 510mm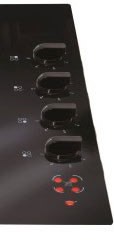 6 power levels
There are 6 power levels for each cooking zone. From a gentle heat setting for heating soups and sauces to a very high power level for flash frying and bringing water to boil, you'll be able to find a level which allows for a precise control over the heat and a more accurate cooking temperature for different types of food.
All controls for the hob are placed at the right hand side. This makes it easier to access pots and pans on the hob and it is considered a safer position for the controls if you have young children in the house.
2 rapid zones
For more time pressured mealtimes, this hob has two rapid zones that heat up faster than the other two zones and will allow you to get cooking underway quicker.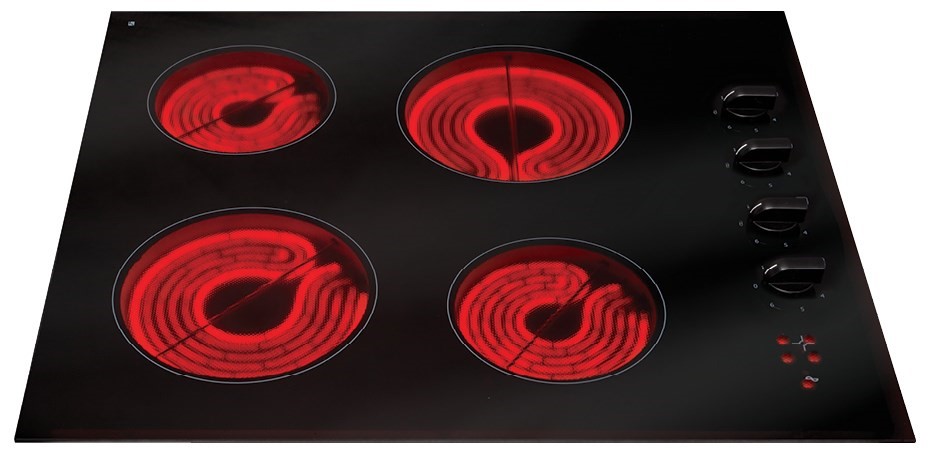 Residual heat indicators
Residual heat indicators keep you aware of how hot the hob is by keeping the indicator lit until the hob is cool enough to touch. This is particularly useful if you want to clean the hob after cooking.
Shatterproof safety glass
The glass on this hob is ceramic shatterproof safety glass. This means that if the glass were to crack, it would not shatter into large pieces and the damage would stay safely in tact until you were able to sort it out.
Easy to clean
If you are looking for a carefree maintenance hob, then this is the one for you! Ceramic hobs are so easy to clean and the smooth glass allows you to wipe food spillages away effortlessly.
Zone information
Front left: 1.7-180 kW/mm
Front right: 1.2-145 kW/mm
Rear left: 1.2-145 kW/mm
Rear right: 1.7-180 kW/mm
Technical Specification
Power supply required 32A
Rated electrical power: 5.8kW
Easy to clean ceramic hob
6 power levels
2 quick-heat-up rapid zones
Shatterproof safety glass
Residual heat indicators

Matrix guarantee
All Matrix products are extensively tested to ensure complete assurance of quality and reliability.

2 Year Warranty
The entire Matrix range is covered by a 2 year warranty guarantee, offering support and maintenance.

Style & design
Products from the range are designed with the idea to combine modern functionality with timeless aesthetics.

The CDA Group
Matrix is part of the CDA group and has been established in the appliance world for over 10 years.