Revitalise your kitchen and your cooking with this stylish chimney cooker hood from Matrix. Sporting an elegant curved glass canopy, 3 speeds and a couple of lights, this hood will remove unwanted cooking odours and steam from your kitchen efficiently and with style.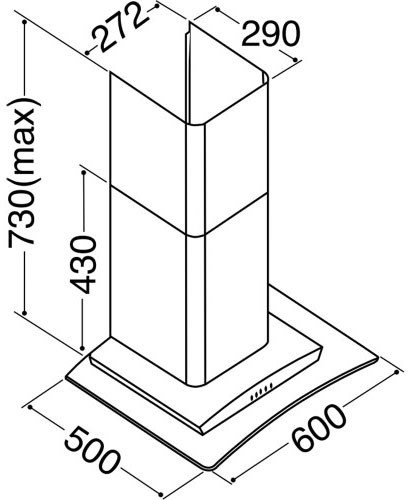 How will this fit in my kitchen?
Measuring 60cm wide, this chimney hood is designed to be mounted to the wall of your kitchen. The chimney is telescopic so you can adjust the height of the cooker hood to be at the correct distance away from your hob. Please measure the chimney hood dimensions below carefully to make sure it will fit your available space:
Dimensions: (H) 430-730mm x (W) 600mm x (D) 500mm
Extraction rate
The single fan motor in this chimney hood gives out a maximum extraction rate of 360 m³/hr which will be ideal for kitchens up to 45 cubic metres, so kitchens that are small to medium sized.
Recirculate or duct out
This chimney cooker hood from Matrix is suitable for recirculated or ducted out extraction, which makes it much more versatile in installation and more appropriate for a wider range of kitchen layouts and positions. If you are choosing to re-circulate you'll need a charcoal filter (CHA17) and if you're ducting out you'll need a ducting kit.
3 speeds
Using the push button controls on the front of the cooker hood you can choose between 3 extraction speeds to suit the amount you are cooking and the level of odours and steam being emitted.
Easy to clean filters
The aluminium grease filters will efficiently catch the airborne grease from the cooking and the steam, but this means it will need cleaning regularly. Thankfully these grease filters can be washed in the dishwasher, saving you time and effort cleaning them yourself.
Design
This chimney cooker hood will become an immediate focal point in the kitchen. With a stainless steel body and a stylish curved glass canopy, this cooker hood is modern and sophisticated in both style and functionality and will nicely complement existing kitchen appliances.
Well lit
The underside of the cooker hood has two 40 watt bulbs with glass light diffusers. The diffusers will spread the light out evenly across the hob below so that you can cook clearly and with ease.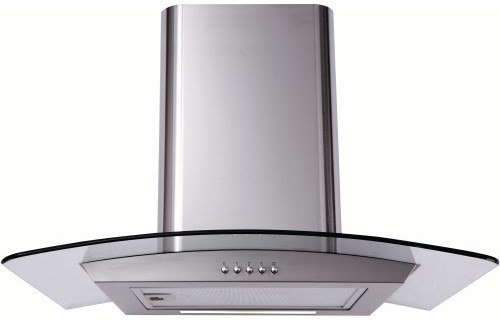 Noise?
The noise of the cooker hood will depend on what speed setting you have it on, but the average noise level is about 58 decibels, which is the same as a dishwasher. If you don't want extractor noise in the background if you eat in the kitchen, then have the extractor running at least 15 minutes before cooking so that when you come to eat, you can turn the speed down low or even turn it off.
Matrix guarantee their appliances for 2 years on the parts and 1 year on the labour. Please ensure you register your appliance to receive this.
Technical Details
Extraction rate: 360 m³/hr
Noise level: 58dBA
Optional Accessories
CHA17 - charcoal filter (2 x required)
5 inch / 125mm ducting required if ducting out
Telescopic chimney cooker hood
3 speed settings
360 m³/hr extraction rate
Suitable for ducted out and recirculated extraction
2 x 40W bulbs with light diffusers

Matrix guarantee
All Matrix products are extensively tested to ensure complete assurance of quality and reliability.

2 Year Warranty
The entire Matrix range is covered by a 2 year warranty guarantee, offering support and maintenance.

Style & design
Products from the range are designed with the idea to combine modern functionality with timeless aesthetics.

The CDA Group
Matrix is part of the CDA group and has been established in the appliance world for over 10 years.