The Hotpoint HTU32 is a canopy cooker hood with many amazing features that will make life in the kitchen easier. The slider controls make it easy to use and easy to manage; neither the small size nor the seamless design compromise the power of this hood. The Hotpoint HTU32 is perfect for a smaller kitchen and will clear your room of bad odours and smoke with ease!

Low Noise
At a noise level of only 49db, the Hotpoint HTU32 is one of the quietest cooker hoods on the market! Whether you're entertaining guests, watching TV or listening to music, this hood won't disturb you.
3 Speeds to Choose From
3 speeds give you the flexibility to choose which speed to use for any situation. Whether you're faced with large amounts of smoke or a minor odour, you're equipped for anything!
Illuminate your Space
2 40w lights illuminate your cooking space and give you all the visibility you need for cooking, day or night.
A Breath of Fresh Air
Extracting air can be done two ways: external ventilation or recirculation. External ventilation simply means that, if your kitchen layout allows it, your cooker hood will simply draw air from your kitchen and push it outside. Recirculation, on the other hand, means that your cooker hood draws in air and then special charcoal filters remove unwanted smoke and odours before releasing clean air back into your kitchen. Your kitchen will stay smoke free and smelling fresh, whatever your layout!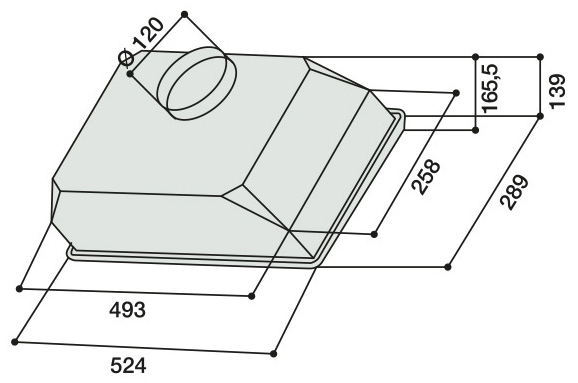 For use in a 60cm wide cabinet
Slider controls
3 Speeds
2 x 40 W lights
Ducting or recirculating option
Output: 280 m³/hr
Noise level: 49 dB
Ducting size: 120mm